Oh this coat, it has stole my heart!!!  I.Love.It.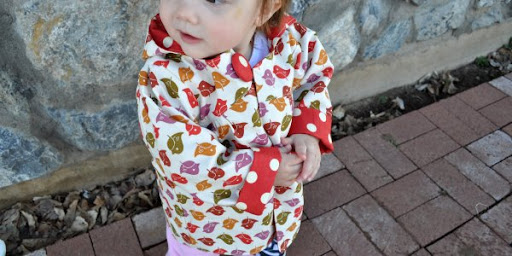 Seriously, I can see my little girl wearing it, and her little girl and so on.  I love it even though the birdies are upside down on the bottom!  Oh well…so be it.
I love today's boutique patterns.  They are easy to follow, with instructions written with the novice in mind, usually.  And this pattern is no exception.  I cut it out at home, and then attended a class at my sisters quilt shoppe, but found I could follow the pattern all by myself.  The only area that might cause confusion is when you get to where you cut out the pieces around the neckline, but other than that it was pretty easy.  Here is a more detail on the pattern.
The back of the jacket has a little detail, just enough to make it interesting but not overdone.  It is reversible and has the same detail on the opposite layer.  It is pretty true to size, but I made my little ones a size big so she can wear it this fall too – it worked out perfect, I only needed to fold the sleeves an extra time.
And just enough detail on the front….so cute!
Remember the scarf tutorial on my very first post here on TMH?  I told you it was going to go with the cutest coat.  At first I was thinking I might have thought that through a little more…spring…scarf, but seeing how we received 6 inches of snow today I am glad I did.  She can wear it now with the scarf to make it a little more winter worthy.
I hope you don't pass the patterns by in your fabric shop thinking they would be to difficult.  Take a chance and give them a try, a lot of times they will offer classes and after a couple times you will feel like a pro.
Here are a few tips I have learned along the way, and as I learn more I will be sure to share them.  If you have anything to add, leave it in the comments!  Also I am linking this up to the Sew Mama Sew favorite sewing tips post.  They have a post that you can link up your favorite sewing tip and then they will compile a bunch of their favorites, go check them out!!
Ever wonder if you have the bobbin in the right way?  Pull on the thread after you have it in place – if the bobbin turns clockwise your good to go.
When top stitching use a longer stitch for a cleaner look.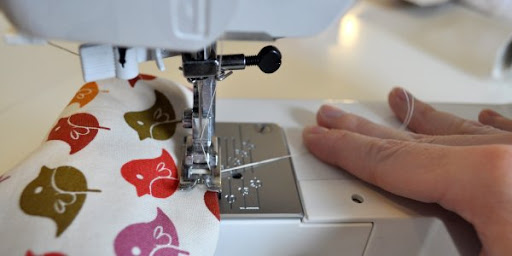 I used to hate it when I would press the pedal to begin sewing only to lose the thread every.single.time.  I spent more time re-threading my machine than sewing. Then my sister showed me this little trick.  Just hold your thread out to the side as shown for the first couple stitches.  So simple. why didn't I think of that?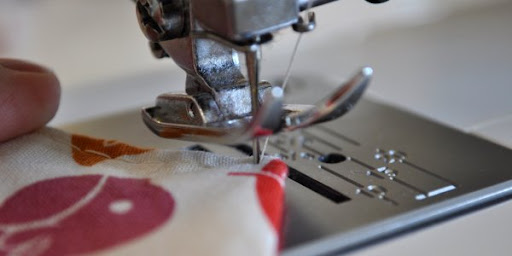 When you get to a corner make sure the needle is down, lift the foot and rotate the fabric till it is lined up where you need it.  This also works well when you are trying to do a round piece.  Just lift the foot every now and then.
When sewing smaller pieces it is easier if you take off the sleeve around the base.
That's it today, but next week….oh next week.  You just wait.  It's going to be fun!
Do you have any tips for me?