We are so excited to get this series off and running!  You can expect to see at least a couple posts a day on all things Thanksgiving.  We are really trying to give this holiday its due.  Recipes to wow everyone at the table, including green beans so tasty, everyone will be going back for seconds.  Potatoes so good they could stand alone as a meal, and of course turkey (it's really good, you don't want to miss it).  We'll share traditions to help make the holiday memorable and fun, including something for the ladies while the men watch football.  So please pop in a couple times a day, and feel free to share with anyone you think might like it.  A big thank you in advance!
I should mention in preparing this series we had a theme of "Thanksgiving Alternatives" in mind.  Ideas and recipes you would normally not see at Thanksgiving, at least not at ours.  We hope to shake up the "usual suspects".
Let's get started!
Setting The Table And The Mood
After spending oodles of time and money on the food it's definitely justifying to say you get a pass on the table.  But dressing the table doesn't have to be expensive or time consuming.  Just a few simple touches will set the the tone for dinner, and emphasize the significance of the meal. Plus it's fun for everyone, and heck, you've spent so much time on the food, why not give it the platform it deserves?
For this place setting I kept things simple by using some pine cones and evergreen needles my kids and I picked up at the park, a napkin we found at the dollar store, and ribbon we had on hand.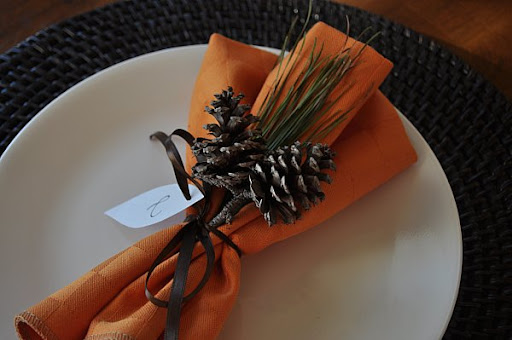 The pine cones were perfect, we found a bunch that were still attached to the twig.  I already had the charger and plate, so total out of pocket for me was one dollar for the napkin.  The idea is to just try and use what you have around the house and what you can use from outside to keep the overall cost down.
For the table you could lay some nuts around the center with some nut crackers, giving everyone something to eat and do while waiting for the main event without killing their appetite.  Put the food at varying heights by using bowls and cake stands.  Add a few candles, some pretty glasses, and you have an easy tablescape that leaves the focus where it should be, on the food.
Switch Up The Seating
Now for the alternative part.  Instead of place cards with the guests names, why not surprise them by switching things up?  Take the amount of people attending and place a little numbered piece of paper for each in a jar.  When it comes time to sit, have everyone draw out a number.  They then sit at the seat with the number they drew.  This is so much fun! I went to a dinner party years ago where the hostess had done this and it was a hit.  I didn't sit with my husband, which at first I thought would be awkward.  In the end it was great because I could carry on a conversation without him kicking me under the table, and he could talk without me interrupting him!  After dinner he even mentioned how fun the idea was.  I think this would be great for families too, might just make for some interesting conversation!  Kids would sit with someone other than mom and dad and share their secrets, the reclusive sister-in-law just might break out of her shell.  I hope some of you try this and then come back to report.
Not having Thanksgiving at your house, going to your mothers this year? Might I suggest offering to set the table?  Or maybe if you are having it at your house you could assign one of your kids or guests the honor. Getting everyone involved will make it more fun.  I am going home to my moms this year and I can't wait, she is reading this right now finding out that I will be setting the table!  Surprise mom!
Now, here is the part we look for your participation, sometimes the best ideas come from the comments!  We may just have to compile all of them in the end!
What are some fun and unique ideas you have seen for the table?  Seating ideas, place settings, unique ways to make the table fun.
We will be back later today with the best little potatoes.  Seriously, they need to be eaten twice a week they're so good.