Are you looking for a fun tradition for back to school? How about a Schultuete, a German tradition that had been around since the early 1800's?  In Germany a cone given to a child on their first day of school filled with sweets, trinkets and back to school supplies.  It's no wonder this idea has stuck around for centuries!
I don't know about you but my favorite part of Christmas is filling the stocking. Finding all sorts of fun and unique gifts to tuck inside. So while doing a little research on back to school traditions, the Germans took the cake!  There are articles all over the web talking of the cones, but I found this one to be the shortest and sweetest, if you're interested.
Here is a picture I found on flickr with a young German girl and her Schultuete, and there are a bunch more fun ones here.
Traditionally the cone was only presented to a child that was first entering school, like kindergarten, but appears to have since expanded to involve all the school age kids in a household.  Such a fun way to make a big deal of something your older kids may not be to thrilled about :)!  My kids are too young (thank goodness) for school just yet so I thought I would make smaller cones for my nieces and nephews to help them usher in the new school year.  Here is the how to:
How To Make A Schultuete
Supplies:
paper – I used scrapbook paper for this cone, which runs a little bigger than standard card stock.  Poster board would be great for larger cones.
glue stick or staples
goodies to fill the cone
tissue paper
embellishments if you want to decorate the cone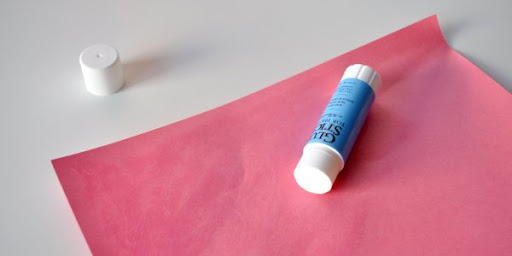 I used a glue stick since my cones are smaller, but if you are making a larger cone you may want to use a stapler.
Roll the paper into a cone shape with the glue already applied and then let dry.
Of all the cones I saw the top was flat, but since I am lazy a rebel I left that little point alone. Do what makes you happy.
To embellish the cone I spelled out my nieces name with stickers and then tied on a little rickrack.  You could really go crazy with the decorating if you wanted, I even read where some kids decorate and make their own, so again, do what makes you happy.
I took my tissue paper, tore it half for the size of my cones and then folded it into a cone shape and put in the cone.  Now for the fun part….
All the back to school goodies!  I had to limit myself because I was buying to fill 7 cones, so I just bought a few fun basics and then threw in some hugs and kisses for good measure.  For the older kids I included some things for their lockers too.  Just stuff them in there!
Then I tied the top with some curly ribbon.  All done!
I can't wait to do this for my kids, what a great way to start the school year, and a fun way to introduce them to a new culture and their traditions.
How about you?  Any fun traditions in your family?  Country?  I would love to hear them!
~Destri