Over the past four and a half weeks I have been participating in Gold's Gym Biggest Loser Contest with a handful of my friends. We are all a little on the competitive side, so we have been working really hard to have a shot at winning the big money……..Okay, so it is only a thousand dollars each if we win, but hey, I could do a lot with a thousand 'guilt free' dollars.
Besides working out six days a week I have cut out sweets and am doing my best to stick to three meals at three hundred and fifty calories each and three one hundred and fifty calorie snacks during the day. This is not easy for a food lover like myself or a person who loves to cook…such as myself. I have to keep it real and allow myself one free day a week. On free days I let myself have dessert and maybe even a  few french fries or a slice of pizza. I love free days.
I only have a week and a half to go and I have to admit I am feeling pretty good. My body is happy to be getting in shape and eating so many healthy foods……now if I could just get my brain to stop screaming at me to eat candy and make yummy desserts. (If there is a steady flow of dessert recipes starting in the end of May, you'll know why.)
I have had to get pretty creative with our dinners because of my "special diet" these past few weeks. I was a little worried my family wouldn't be to thrilled with drastic changes to our dinner menu, but (if the amount of food they eat is an indicator) they haven't seemed to notice. I think their favorite has been these baked taquitos. We had them the week before I started this little adventure, with flour tortillas instead of corn….and they were even more delicious…but they are still really good with the corn tortillas.
Lower Fat Baked Taquitos
1 can black beans, drained and rinsed 1-1/2 cups chicken, cooked and shredded or cubed 1 can diced green chillies 1/3 cup onion. chopped extra fine 1/4 cup cilantro, chopped 1 tsp cumin salt to taste 1/3 cup cottage cheese, optional corn or flour tortillas 1-2 Tbsp oil
Mix black beans, chicken, onion, green chillies, cilantro, cumin and cottage cheese. Add salt to taste.
If using corn tortillas warm them in a skillet on each side or they will break apart when you try to roll them up. Place a couple tablespoons (more if using flour tortillas) of mixture on edge of tortilla  and roll up.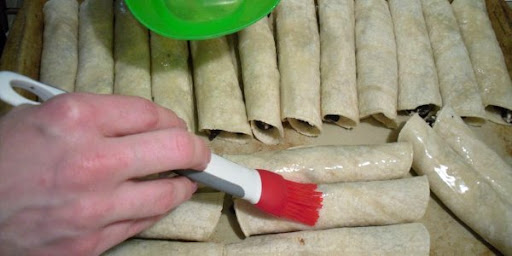 Place on lightly greased baking sheet. Repeat until mixture is gone. Baste with oil and place in a 375º oven. Bake for 8-10 minutes on each side or until crispy. Serve with Pico de Gallo, sour cream and guacamole.
My little guys love these because they can just pick up the whole thing and it is easier and less messy to eat then a taco or burrito. I hope your families love them too.
I'm not kidding when I say I can't stop thinking about desserts. I have literally been dreaming about them. I can't wait for May 22nd when I can start trying them. Stay tuned they look really good…in my head anyway. :)