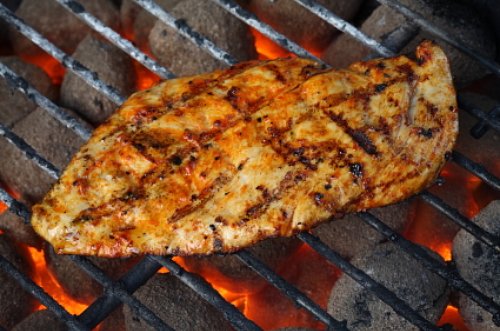 Anyone who grew up anywhere near Sanpete County, Utah knows exactly what I am talking about….and has already started drooling just thinking about this delicious meat.
Someone knew what they were doing when they came up with this winner. It is Crazy tasty…..More-ish if you will and is absolutely perfect for your summertime barbecues.
Turkey breast is traditionally the star in this recipe, but chicken shines almost as bright and can be used in a pinch.  In Sanpete County turkey meat is easily accessible, and affordable because of the many turkey farms in the area.  Anytime we had a major family gathering my mom would go over to the local Turkey Plant (yes, that is the place where the turkeys from the farms retire to,) and come back with her twenty pound frozen brick of turkey that she paid a dollar something a pound for, and usually within 48 hours we had barbecue turkey coming out of our eyeballs.
However, when you live in, say, New Jersey – it is a little harder to find fresh turkey breast.  If you are fortunate enough to come across it at your local grocery store, it is usually to the tune of "way more then you are willing to pay," so…………..go ahead and use chicken.  It will still be awesome!
BBQ Turkey Marinade
2 cups Sprite or 7up 1 cup cup Soy Sauce 1 cup oil 1 TBSP horseradish sauce 1 1/2 tsp garlic powder 5 lbs  fresh turkey breast or fresh chicken breast
Combine first five ingredients in a large bowl (I use a clean 5 quart ice cream bucket.) Once you have the marinade mixed well add the meat and put a very tight fitting lid on it. Refrigerate over night. You can also use zip-lock bags. If you use zip lock bags you will probably need to divide the meat and marinade evenly between two gallon size bags. Refrigerate over night or at least 12 hours.  Pull the meat out and grill it on your barbecue until cooked through. Viola…..enjoy.
~Maria