So…..winter makes me want to eat casseroles all the time. Is that weird. Does anyone else suffer from casserole-itis when it's cold outside? Soups are a close second, but lately I am totally digging casseroles. Hence, you are getting my new version of Broccoli Casserole. I personally think it is delicious. What makes me really happy is that I used brown rice, and I am telling you, it was just as good or even more delicious then when I have used white rice in the past. I am always trying to disguise carrots in our food because my three year old seems to have an aversion to them. I thought I was pretty smart sneaking a few extra veggies in here instead of just the usually broccoli, and guess what…he scarfed it down. YEAH!!!
I almost forgot the funniest part. We were babysitting our friends little girls the night we had this for dinner. Olivia (she is two) liked it a lot.  She liked it so much she was talking about dinner on the ride home and her mom asked her what we had eaten and she said, "Chicken Car Pooh." Hmmmm…I call it broccoli casserole but feel free to refer to it as whatever you want.
Maria's Broccoli Casserole
Ingredients:
2-3 cups cooked brown or white rice 1-1/2 cups cooked shredded or diced chicken breast 1 lb cooked broccoli pieces, I use a bag of frozen broccoli 3/4 cup finely chopped or minced carrot 3/4 cup finely chopped or minced celery 1/2 cup finely chopped or minced onion 1/2 cup sour cream or 1/4 cup cream cheese (just something to give it some zip, I used cream cheese) 1 small can cream of mushroom soup 1 cup chicken stock, chicken broth or milk 1/4 tsp curry powder 1 tsp lemon juice 1 tsp sugar 1 cup shredded cheddar cheese 3/4 cup bread crumbs 1-2 TBSP melted butter dash of sage salt and pepper to taste In large saute pan, saute carrot, onion, and celery until soft. Add soup, cream cheese or sour cream, which ever liquid you choose to use, lemon juice and sugar. ( I use the juices from the chicken I cooked and add milk if I need more.) To that mixture add chicken and rice. Mix well until everything is thoroughly blended. (You may need to add a little more liquid if it seems really dry.) Dump mixture into a glass casserole dish and top with cooked broccoli. Sprinkle with shredded cheese. Mix the sage, salt and pepper with the bread crumbs and then sprinkle them over the cheese. Drizzle with melted butter. Bake in a 350° oven until bubbling and warmed through. This will not take to long because the mixture is already warm. Probably 25-30 minutes. Enjoy! ** This is a great recipe to use up leftover chicken or turkey. **If you don't like using cream soups when you cook this recipe would still be great with a white sauce made from chicken stock. **When I cook chicken to use in recipes such as this one, I always bake it or put it in the crock pot. Put a few tsp of lemon juice over it and salt and pepper. Then make sure you cover it with tinfoil or a tight fitting lid if putting it in the oven. It will be much more moist then if you boil it. I like cook enough for two or three meals at a time. (My chicken is usually frozen so I don't add any water. If yours is not frozen add 1/4 cup water.)
This week was like 0ne big cooking marathon from me. I think I am ready for Iron Chef…yeah right…..anywho, we had dinner guest five out of the seven days of the week and I made some goodies for a memorial service for a friends father. Being the nerd I am I somehow managed not to get any pictures of any of the meals or goodies. Ooops. Luckily, last night the boys helped me make more of the Peanut Butter Clusters that Toni and Kathy wanted the recipe for, so here it is ladies. I used rice crispies this time instead of corn flakes. Use whatever you like better.
Chewy Peanut Butter Clusters
Ingredients:
1 cup white sugar 1 cup Karo syrup 1 cup creamy peanut butter 6 cups rice crispies or corn flakes In a 2 quart sauce pan bring sugar and Karo syrup to a boil. Boil only until sugar crystals are dissolved. No longer then one minute. Take off the burner and mix in peanut butter. Stir in cereal.
Drop by spoonful onto wax paper.
**These can also be put into a 9×13 pan and cut like rice crispy treats.
I had a little idea when we were making these last night. I personally love them when they are made into bars and topped with melted milk chocolate chips and butterscotch chocolate chips.  So… I used my heart cookie cutter and pressed some of the mixture into it. It made a nice heart shape.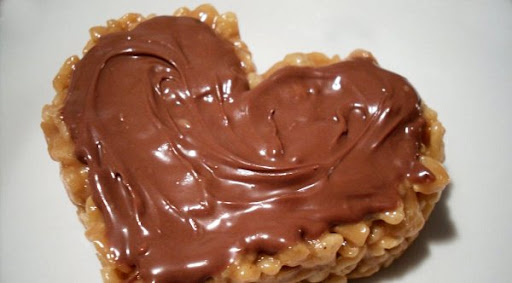 Then I melted  a mixture of 1/2 milk chocolate chips and 1/2 butterscotch chips together slowly in the microwave and frosted the top each heart. Top them with some valentine sprinkles and they are ready to help you win your special someones heart. I would be almost anyone's valentine if they gave me one of these. The quickest way to my heart is definitely through my stomach!
Had to share these…the gal behind Intentional Focus put 'em on a stick, super cute.