I love corn – I guess it comes from my grandpa who grew up in Iowa growing corn and raising hogs.  Every Summer when we would have BBQ's, my mom would make sure grandpa had plenty of corn on the cob and steamed just right.  He loved it and ate at least 2-3 ears, in fact we all ate lots of fresh corn on the cob in the Summer. If you're a corn lover like my family was then you will enjoy this recipe I'm sharing today.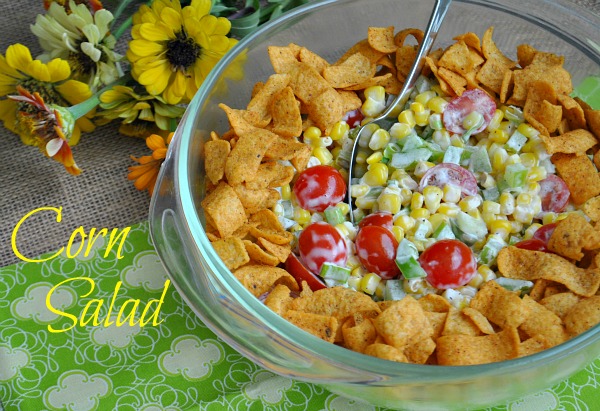 Today's recipe comes from a lady that I know through church. Each Summer our young women ages 12-18 years of age go on a Summer girls camp for about 4 days. We usually go somewhere around Alexandria, Louisiana and our cook for the week is a wonderful Southern cook along with her daughter who helps. She keeps all the girls and adult leaders happy by feeding us lots of comfort food. I usually feel like I've put on a few pounds by the end of our camp experience because we are fed so well. This corn salad is always on the menu and all the adults love it and we all want the recipe. Finally, I managed to type the ingredients into my phone because like most good cooks she goes by taste not measurements. I was left to try to re-create her recipe on my own with just a list of ingredients.
I must say my version of her corn salad doesn't tastes exactly like hers does but it's a contender. One piece of advice our camp cook gave me was "easy" on the salt because it gets plenty of it from the corn chips. Oh, and she did mention home grown tomatoes are best to use in this recipe. I used grape tomatoes in this recipe but you can use regular tomatoes or cherry tomatoes. She told me she used canned corn for her recipe but I used frozen corn cooked and chilled. Even better would be fresh off the cob corn, but too much work for me to think about so I opted for the frozen corn. I also was thinking later that grilling the peppers first would be a yummy, along with adding some hot peppers for a little heat. Anyway make this salad your own by add your own touch to it and enjoy!
Ingredients:
1 pound frozen corn or canned corn or fresh off cob
1/2 of green bell pepper chopped
small basket cherry tomatoes
1/2 cup chopped green onions
1/4 to 1/3 mayonnaise
chili cheese frito lays corn chips
Directions:
Step 1: If using frozen corn or fresh cook the corn and then cool and drain. If using canned corn just drain corn and put into a medium size bowl.
Step 2: Prepare veggies by chopping green bell pepper small, half cherry tomatoes or if using regular garden tomatoes cut small. Chop green onions and add all veggies to the corn and toss.
Step 3: Add 1/4 mayonnaise to the corn mixture then pepper generously add a pinch of salt. Stir and taste for seasoning. You may need more mayonnaise add more to your liking. Refrigerate the salad for about 2 hours then add corn chips before ready to serve. I have the corn chips arranged pretty for the photo but they are supposed to be mixed into the salad. Adjust the seasoning but be careful to not over salt since the chips add to the saltiness.