Back  in 2002 on February 12, to be exact, I had the opportunity to be part of Chinese New Year in a way that I don't think I will ever experience again.  I was in Hong Kong!!  Cool huh?  It was pretty amazing to be part of all the festivities there.  My favorite thing had to be the dragons.  There was a parade that went right down the middle of all the enormous buildings and the dragons were incredible to watch.
This one was my favorite.
I decided I want to make a dragon with my girls.  I found a great one on Crayola.  So cute and so easy!
This year is the year of the Tiger.  As you know or you should know, I'm working on going green for my crafts so I was excited to come across this cute craft at the Activity Village.  I did my tiger a little different so I will give you the list of supplies I used.
Supplies:
toilet paper roll
styrofoam ball
wiggly eyes
black button
black ribbon
2 black and 2 orange pipe cleaners
orange paint
black sharpie
orange foam sheet
hot glue gun
I followed the instructions the Activity Village gave except I used the black sharpie instead of black paint.  I also used the pipe cleaners for legs instead of corks.  I twisted the pipe cleaners together like you do the tail, but then I folded it over and twisted them together again to make them stronger.  I then bent each end a little to give our little tiger feet and also make it easier to glue to the toilet paper roll.  She, our tiger is a girl, my daughter decided, turned out super cute!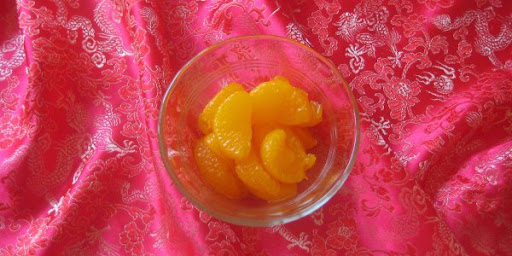 Mandarin Oranges are also a big thing because they are a symbol of wealth and good fortune.
To the Chinese a Mandarin Orange tree is like a Christmas tree in a sense.  They are everywhere you look, and are so pretty.  This is a picture I took while there.
I was hoping to come up with some way to make a Mandarin Orange tree….I resorted to a can of Mandarin Oranges.  I explained to my daughter about the significance of them, gave her a large foam sheet and a cup of mandarin oranges to "create."  She made a couple things…
The first being a crab, a caterpillar, and then pictured is a rainbow.  (It was the only one I could make sense of.  The others were very cute, but required an imagination!)
Have fun with Chinese New Year and take the opportunity to teach your little ones about another culture and their traditions.  Here are some other fun ideas:
Happy Chinese New Year!!