Aubrey linked up to No Biggie last week to Kami's AMAZING Asian Chicken Pasta Salad and I knew right when I saw it that I needed to make it ASAP. I made it Sunday for my family and mmm, mmm, mmm, it is goooood!
The great thing about the recipe is that you can tailor it to your taste, or to what you have sitting around your fridge.  I added finely chopped carrot, shredded purple cabbage, sliced cucumbers and more green onions.  In the dressing I used rice vinegar instead of red wine vinegar and I added about 1/4 tsp ground ginger. I also put some chow mein noodles on mine to give it a nice little crunch.
Next time I make it I am going to try substituting teriyaki sauce for some of the soy sauce in the dressing. I have a HUGE thing of teriyaki sauce from Costco and have been trying to think of ways besides making stir-fry to use it up. I think this dressing is just the place. If you have a HUGE thing of teriyaki sauce killing space in your fridge you should try it too.
I can't really say enough about this salad. It was perfect for a summer time meal and besides being the perfect thing for a baby or bridal shower, I think it would be an awesome meal to take to someone who is sick or just had a baby.  It makes a ton!
The other thing I went a little crazy on this week were these little devils.
Yes, these are one of the many things that were dancing around in my head for that very loooonnng six weeks. I just made my normal Homemade Oreo Cookie recipe (scroll down past the ham recipe) but I made some delicious mint frosting instead of the regular cream cheese frosting. The recipe is off of Suzanne's blog….
and then I accidentally dipped them in milk chocolate……HELLO, are you kidding me?
It doesn't get much better then that folks.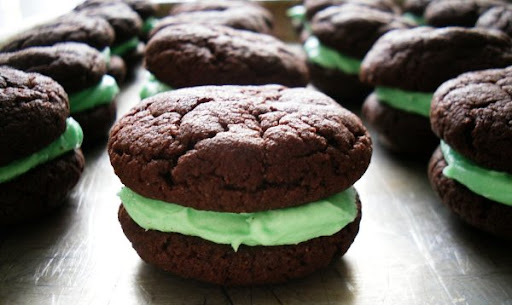 They were delicious before they took a swim in the milk chocolate, but after, oh man, words can't describe. I think I really out did myself by dipping them in the chocolate. They should come with a sign….WARNING, PROCEED WITH CAUTION.
Have a great week!
~Maria