Holy crow I am in love with these enchiladas. My friend Honoree makes this recipe and I finally decided to give them a try….they are so good!  My husband hasn't stopped talking about them since I made them and we even had a little bit of a tug-a-war over the last one. He wanted to take it for his lunch, but I wanted to eat it for breakfast….I won.
One of my favorite things about these yummy enchiladas is that they don't have canned cream of chicken soup in them.  Green salsa verde and cilantro give them a flavor that  is so fresh and delicious your mouth is going to get spoiled and never want another type of enchilada again.  I was a little worried when I tasted the green mixture in the blender and it tasted hot and over onioned. Mixing in the cream cheese fixed all that and turned it into the most delicious green sauce that has ever crossed my lips. I'm lucky there was enough chicken to fill all the tortillas. I couldn't stop tasting it as I was filling them up. :)
Cilantro Verde Enchiladas
1 bunch Cilantro 2 cups salsa verde (green salsa or green enchilada sauce) 1 medium-large onion, quartered 1 jalapeno, seeded and sliced (keep some seeds if you like heat) 1 Tbsp chopped garlic (1-2 large segments) 1/4-1/2 tsp salt or to taste (this will depend on the salsa verde you use) 1  8 ounce cream cheese 10 tortillas 4-5 cups diced or shredded cooked chicken (I used six pre-frozen breasts from Costco. If using fresh chicken, three or four large ones would probably be plenty.) 2 cups monteray jack cheese, shredded  
Cook your chicken in the oven or crockpot with salt, pepper, garlic powder, lemon juice, and a little olive oil to add another level of greatness to the enchiladas.  Preheat your oven to 350°.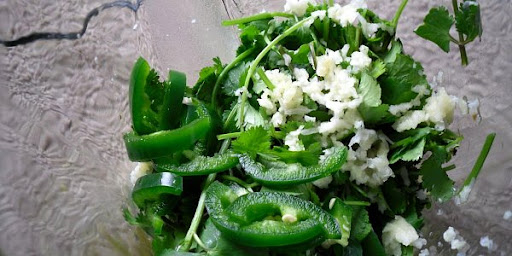 In a blender combine onion, salsa, cilantro, garlic, jalapeno and salt. Blend until smooth. Stir in softened cream cheese. Pour half of the sauce over the chicken and stir until well coated. Reserve remaining sauce to pour over the enchiladas.
Scoop about 1/2 a cup of chicken mixture in each tortilla, roll up and place side by side in a lightly greased 9×13 pan.  Pour reserved sauce over finished enchiladas and cover with tinfoil. Bake for about 30-35 minutes remove foil and sprinkle evenly with shredded cheese. Bake uncovered for 10-15 more minutes.
Make sure enchiladas are heated through and enjoy. They taste great served with black beans, tomato, and olives.
Happy cooking!
~Maria