I have done this before, but have never tired from it.  So fun and the perfect hostess gift, neighbor gift…anyone really!
The great thing is you can use the dish year round.  Just change up the ribbon and throw whatever you want in it to create a new look.  A quick and easy project that is sure to help you scratch someone off your list!
How To Make A Candy Dish Or Display Piece From A Candlestick
Start with a candlestick.  I picked this up for 50 cents at the thrift store.
If the candlestick is not the color you want, spray it.  If you do this outside in a box it will help keep the spray confined.  I did quite a few coats of paint, making sure to dry in between.
Now take any kind of glass candle holder, or dish that fits.  The reason I say use a candle holder is they are in general always about the same size as the base of the wider candlestick bases.  Any craft store has a big variety.  I actually picked this one up at Walmart for $2 by the candles.  You will need a good glue, E-6000 is my favorite.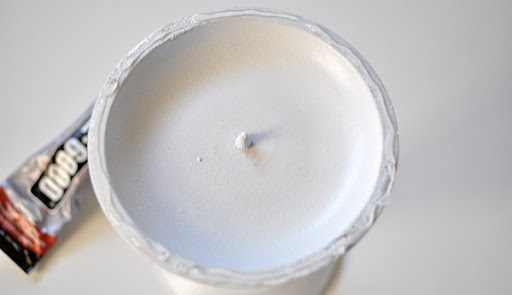 Squeeze a thin layer of glue around the rim of the base of the candlestick.
Center the glass on top and let dry.  All done!  The easiest little project, no?
Fill it up with candy, little Christmas bulbs or something else festive and tie a ribbon on if you want.  I was going to gift this, but I kinda like it.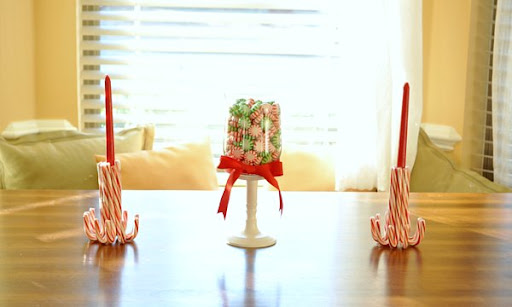 It goes perfect with my candy cane candle holders I made!  Have you seen these?  My sister had a pair and I thought they were the cutest.  I am thinking they were all the rage at some point and I just missed the boat.  But if there are a few of you out there that missed that sailing too, I could show you how I made them, super easy.  Just let me know!
Anyways, have you made something this year that you were going to give, but find yourself having a hard time letting go?
Linked to the fabulous Someday Crafts