I hate elastic waist bands.  I don't know why for sure, but even on my little girls skirts they bug me.  I think it has more to do with how they make the skirt lay on her.  So I was going through all my clothes the other day and had a handful of old undershirts that were slightly stained or had lost there shape.  Not wanting to throw them out I threw them in with my scrap fabric to come up with something later.
Here's what I came up with.  The fabric is extremely stretchy, so why not use it as elastic?  Then I can make it so the skirt hangs lower on the waist, and it will grow with the little one, she can wear it for years!  I'll show you how I made the skirt, but it's the waistband that I am mostly excited about, the skirts just a basic pieced, gathered rectangle.
Supplies:
All your sewing stuff
An old stretchy undershirt
Fabric cut out to fit whoever is going to wear it (I intended mine to fit a 3T, I used another skirt to help me) more on that below…
Start with the main body of your skirt.  Really any pattern will work for this but I wanted my skirt to be really poofy for a 3 year old, so I made it twice as wide as a standard 3T skirt.  I also made it twice as long so I could double it up for more fullness.  Sorry ladies, no specifics here!
After I pieced my fabric together I folded it in half right sides together and sewed the sides together with a ½ inch hem.  Of course you don't need to use a pieced body, that just happened to be what I was doing.
Now press that seam down as shown.  How do you like that ironing board cover now?  Little easier on the eyes 'eh?
I turned it right side out and folded in half to create the skirt.  You may not have this step if you will have a single layer, hemmed bottom.
Now because I wanted this to be really full I made to basting stitches (really long stitch) along the top of the skirt, just in case one breaks as I gather.  Glad I did, one broke.  Remember you don't need to back stitch here, just a running long stitch.
Gather your skirt, aren't those colors great?  I love them.
Now cut off the bottom of your stretchy shirt.  I made mine a wide waist band so it would grow with the little one, and her shirt should cover it just fine, so I cut down 5 inches.  I then used another skirt as my guide for the waist measurement.  Keep in mind that you want it to be fitted, it's stretchy.  Sew up the ends, right sides together with a ½ inch seam.  The lovely part is you don't need to worry about the top hem, it's the bottom of your shirt!  Sweet.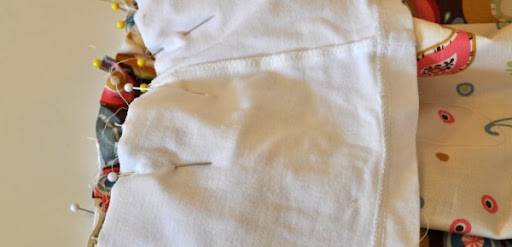 After you have sewn up the side, leave it right side in and pin to the skirt as shown.  You will want to pull it over the skirt, top hem down and pin the raw end to the top of the skirt.  Loosen the gathers out to fit the circumference of the skirt and pin.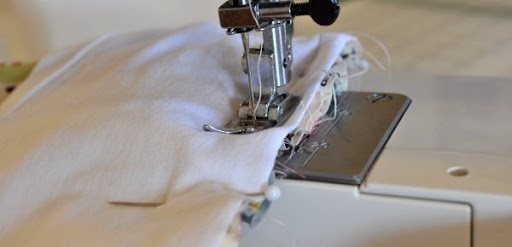 Now carefully sew the two together, leaving a ½ inch seam.  If you have a serger, now would be the time to use it, but you knew that right?  If you don't you can use a zig zag stitch around the ends of the seam so when it is washed, it looks pretty.
You're done!  I tried it on my kiddo and it is perfect.  It will hang just right so that the skirt swings from her hips, and her shirt will cover the waist band.  The best part is the way it lays, and it will grow with her so she can wear it for a couple years, hopefully.
Happy sewing!