Anyone that has been around this little site for long knows I like to play around with stuff to put in my bath.  That's because I am a mom.  With a 2 and 3 year old.  And that is about the only sacred time I get, so it had better be good!  Once you have a few of the basic supplies on hand it easy to whip up some kind of bath salt recipe, body scrub concoction, or like we are going to do today…a Christmas bath tea.  Using the right herbs, essential oils and salts, you can create the scent of the holidays, or just about anything else you like.  It makes a great gift as an inexpensive yet thoughtful way to help your friends unwind and soak up the season.
Don't let all the ingredients scare you off, one trip to the health food store and you will have everything you need!
Make Your Own Bath Tea
Supplies:
Epsom salt
Sea salt
Chamomile flowers (dried)
Hibiscus flower or petals (dried)
Lavender buds, optional, I had it so I threw it in!
Sweet orange essential oil
Clove bud essential oil (if you are worried about sensitive skin you could use bergamot or frankincense)
big bowl for mixing
jar for storing
heat and seal tea bags, or tea balls, organza sacks
Of course you don't have to use these ingredients exclusively, you could mix in anything you like.  For essential oils I almost used frankincense and myrrh, but the latter is a bit pricey, so I stuck with clove bud and sweet orange.  Together they smell just like the holidays.  Everything listed is great for the skin, and the senses, but use the clove bud sparingly, just a little goes a long way!  I called the essential oil specialist at the store I bought all my oils and gave her my recipe and amounts, she assured me all the amounts were safe to use in a bath.  If you make your own recipe, it is a good idea to check.  While essential oils are fabulous, they are not to be taken lightly :).
Mixing:
The measurements are just my preference for this mix.  I wanted it to be more herbs than salt, you may like more salt.  Just do what makes you happy!
In a large bowl mix 1 cup sea salt and 1 cup Epsom salt.  To the salt, add 8 to 10 drops of clove oil, and 10 to 15 drops of sweet orange oil.  This was plenty to me but if you feel you need more or less scent, adjust accordingly.  Mix well.
Now we will add the herbs to the salt.  I used 2 ounces (about 1½ cups) of hibiscus, ½ ounce of chamomile (about ½ a cup) and ½ ounce lavender.   But again, you could do more or less.  Mix it up, isn't it pretty?!  It has all the colors of Christmas, with what looks like a little snow dusted in, no?
Now just put it in a jar.  I used a good 'ole mason jar.
Now you will need to give them something to put the tea in.  I found these fun tea balls at a yard sale, but I have also seen them in my grocery store in the kitchen gadget area.  Amazon has these mesh ones listed here.  I think they look a little like a bell, so it seemed fitting. I just added it to the bow on the jar.
On the tag I wrote "Take time to soak up the season".  Just a little reminder to slow down and take it all in.  On the back I wrote "fill ball with tea, add to tub of running water and let steep five minutes.  Then enjoy!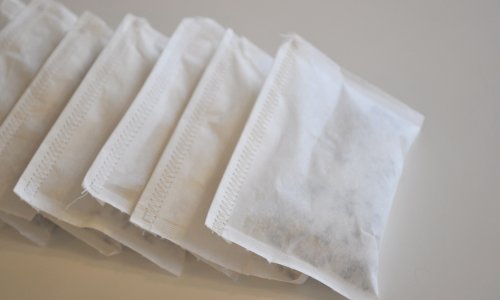 If you wanted to have smaller portions you could put them in press and seal tea bags, I have instructions for that on Make and Takes, with another recipe for bath tea.  This would be a great way to give to teachers in a fun little box.
Or you could put them in little organza bags with a little tag that says "Soak up the holidays".  Great in a jar, or give them out as party favors.  Endless possibilities!
I hope this helps with your gift giving the year, it was a hit with my friends!
We have some more ideas coming up all week, all with quick and easy in mind.   Stay tuned!