All right ladies, I hope you have been getting your flops ready.  It's going to be exciting!  I have a project for you today with my flip flops, and you will slowly see all of us adding ours over the next couple months.  Don't forget Destri's flops from last week as inspiration too!
Since I just started using the sewing machine of course I had to use it a little for this project.
First- I got my supplies ready:  I used ribbon, jewels, scissors, sewing machine,  glue gun and the flops.
Second- I cut my 4 piece of ribbon to about 16 in. and sewed up the middle of the ribbon.
Third- I pulled the thread from one end and began to make my ruffle.  Be careful when pulling that you don't brake the thread (which I did) and have to start over.
Fourth- Glue on one side  at a time I started from the middle of the flop to the back. May need to trim the ribbon a bit to match up to the flop.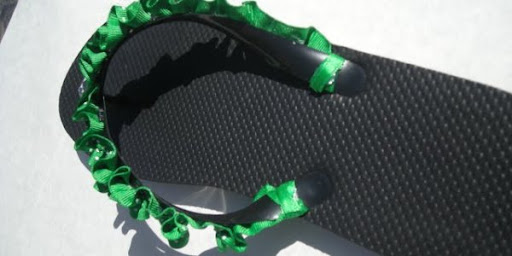 Fifth- I cut a smaller piece of ribbon and secured with glue around the end close to the sole of the shoe so the ribbon will not come loose.
Last- I glued my jewel in the middle and was done.  Now wasn't that easy?!
Can't wait to see what you guys are coming up with!