Last year I bought a pair of flops for my sister at the Buckle and I loved 'em.  They were the first thing I thought of when I knew we were doing this event.  I should have taken a picture of them on a pair of feet, but honestly it would take me all day to get my feet ready for a photo op!  So when I get them on the feet I made them for I will grab one!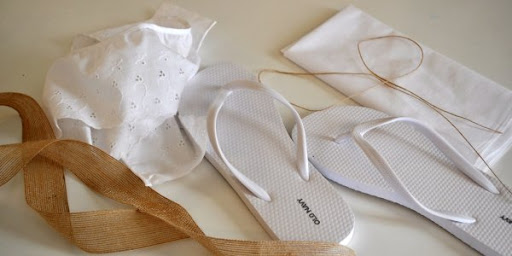 Supplies:
Flip-flops – Mine are from Old Navy for $1.99
Eyelet ribbon or fabric – I bought a yard
Trim – I bought a jute type of ribbon, but I would go another route if I had to do it again!  It challenged me in ways that my three year old hasn't!  Just buy 1 yard of something that doesn't fall apart when you cut it!!
Hot glue gun
Sewing machine – but really you could just use hot glue if you use the right materials
Cut your fabric so that you have 2 strips that about about 2½ inches wide and at least 20 inches long.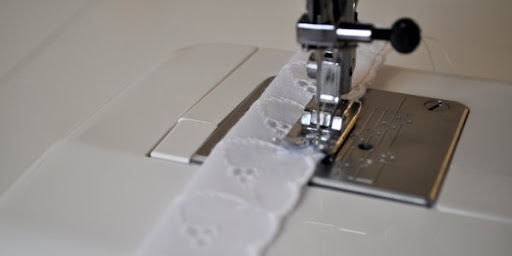 Next fold in half and sew up the sides.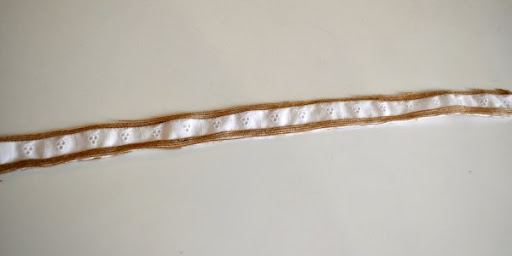 Now sew or glue on your trim, depending on what you use.  Your ribbon may need to be trimmed for the right effect.  I just covered up the seam on the side with my trim.
Now fold the fabric, making a V and sew along the trim to secure.
Glue the tip of the V to the front of the flop, then pull the sides down and trim to the right length.  Tuck under the strap like shown.
Now fold over the sides and glue.
I had bought jute string and just wrapped it around this part a couple times.  It would work the same with ribbon.
It will just help make sure your feet don't pull the fabric loose.
Using the same string I made a bow and glued it on.  You're done!  Unless you decide to use the jute trim that I did, then you will have to go around and glue it all on….
You don't even know how hard it was for me to decide which idea to use for this!  I could have posted at least 10.  But I can't wait to see what you guys come up with!
More details later today are coming up for the event, just need to work on some final details.  I will also announce the winners of the Old Navy flip-flops then too.
Update!
I still have a few more details to get through…sorry the sun is shining, what can I say?  But I did want to tell you who won!
Janine, Amber, and Staci…I will be in touch!