Oh you guys, I am so excited about this Valentine!  Most likely due to the fact that I have a horrible track record when it comes to Valentine's Day gifts for my husband.  I thought this idea was a great way to not just say I love you, but share all the things that I love about him.  I wrote down things that I never have thought to tell him I love.  For instance I love the way he laughs when he is with his friends.  Something about it totally turns me on, and I am quite certain I have never told him.  Now I have told you too.  Good thing he doesn't read this blog ;).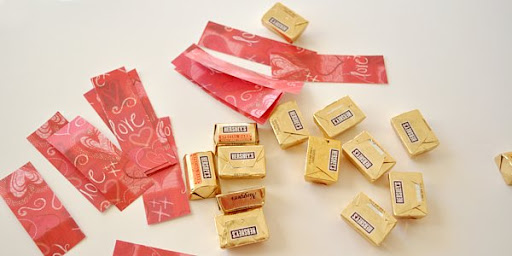 You could use anything, even a pack of gum, but I went with Hershey's nuggets and wrapped them with scrapbook paper I cut down to size.  I wrote all the little love notes in the inside, then wrapped them around the nuggets and used tape to secure.
Then using a simple running stitch, embroidered "i love…"  on some muslin that I made into a little bag (you could use this tutorial, just make it smaller) to put all the chocolate love notes in.
Now I just can't decide if I should wait to give it to him, or give it to him tomorrow to count him down to the day.  Hmmm.
You could really go so many ways with this, like just write "i love…." on the outside of a little gift box and fill it up with the chocolates.  Or if you don't want to include the sweets you could fill a jar with a bunch of notes and a tag on the outside saying "i love…".  Or like I mentioned before, a pack of gum could be a lot of fun, especially for kids.
The idea is to just really think about all the things you love about your Valentine, things that you wouldn't normally tell them, and share in a fun way.
As for my track record, ladies I am horrible!  One year I waited until the night of and ended up sifting through the only cards left at walgreens, which happened to be in Spanish.  Which is dandy if you speak Spanish.  I told him I thought "Te Quiero" sounded much more romantic than "I Love You" :)  Then there was the year I forgot and ended up cutting a heart out of construction paper for a card, which would have been lovely had it been my four year old giving it!  Anyways, you get the idea, this year I am excited to give him something I put a little more thought and effort into.
How about you, any funny stories of forgotten Valentines?