So….I had something way super cool for today.  But part of it is in a box….somewhere.  I looked all morning with no luck, tore through boxes to the point that it looks like a tornado has ripped through my house.  On the up side it forced me to unpack some boxes :).  So maybe by next week I will find that super cool thing and Aubrey won't mind if I take over her segment again.
In the meantime I have a really fun easy thing that my kids have loved…free coloring pages!  Anything they feel like coloring, including pictures of them.  They love it. Let me show you:
This is a photo I found on flickr with permissions for personal use, I then uploaded it to picnik and under their effects they have a feature that turns any picture into a pencil sketch, so fun!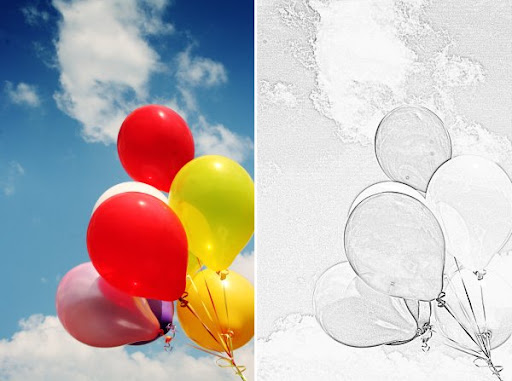 My little girl loves balloons and found this photo on flickr and it came out to this, I love how the clouds look so natural.
The fun part is you can ask them "if you could color anything in the world right now, anything, what would it be?"  They can see all the colors in the original picture for ideas of how to color it too.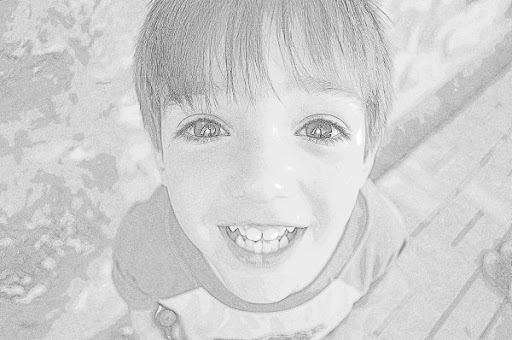 Or you could surprise them with a picture of themselves, or their favorite doll or truck and let them color it.  This may or may not be my boy.  Cute kid nonetheless ;)
Oh my, look at this cutie.  Someone sure does have cute kids.  Just sayin' ;).  Think this mama should have this printed out on photo paper…and frame it.
And this one.
So if you don't have an account with picnik yet what are you waiting for?  They have a free version which includes the pencil sketch feature, and also a version you can purchase with more features.  I think I paid $29 for two years or something like that, very reasonable.  They have so many fun things, I could go on for days and days if I had the time.  Just sign up and get to playing, that's the best way to learn.  Here are the step by step instructions for the pencil sketch:
How To Turn Photos Into Coloring Pages With Picnik
start with an account then upload the photo you would like to use
click on the Create tab at the top
click on the effects tab under the top tabs
find the pencil sketch effect
adjust the radius and strength till you have the look you want
hit apply
click on the save and share tab in the top tab menu and save where you wish
Easy peasy!