Of all the people on your gift list that you would like to make handmade, I dare say that men are the hardest, no?  Okay, maybe teen boys, but really this could work for them too.  If they golf that is.  Let me explain how it works first and then I will show you how to make it.
The sling hangs from the bag for easy access. It has a drawstring top at the top for easy ball placement, and holds the balls in with elastic at the bottom.
When they lose a ball in the north forty all they have to do is squeeze one out of the bottom, and viola'!   No digging around in the depths of their golf bag.  Then there is another one waiting for them when they take the next one for a swim!  The sling holds six balls, which is approximately how many balls I lost the last time I went golfing.
I made this for my husband for Father's day last year and was a little worried that he would think it was silly.  Quite the contrary, he loved it!  He hates digging in the deep pockets on his golf bag looking for balls, and this was an easy and convenient solution.  Especially when he is walking the course and not in a golf cart.
I am lucky to have at least 7 golfers on my gift list this year, some of which are women.  This is an inexpensive yet fun gift I know they can use and I am pretty certain they won't have anything else like it under the tree.  I am throwing in some new golf balls and tees to sweeten the pot!
How To Make A Golf Ball Keeper
Supplies:
all your sewing stuff
woven fabric
¼ inch elastic
clasp or ring to hang with
thin cord
safety pin
Fabric cuts:
cut one piece of fabric to measure 13 x 6½ inches
cut cord nine inches long and burn ends if needed
cut elastic 6 inches and you will trim later
Sewing:
Start by sewing each of the 13 inch sides with a zigzag stitch to finish the edges.
Now fold and press each 6½ inch end over just a smidgen, and then fold over a 1/2 inch and press.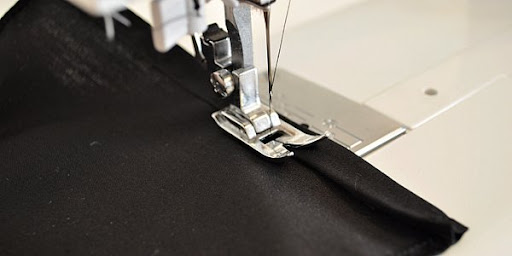 Sew along the inner edge of each fold on both ends, leaving a pocket in which to thread the elastic and cord.  Make sure to leave the ends open.
Fold the piece in half, 13 inch sides together, with the right sides together and start sewing on one end just after the top pocket and ending just before the end pocket.  Make sure to back stitch.
I forgot to take pictures of this bit, but here is where you will add the strap for the clasp.  Take the 4 x 1½ inch piece, fold in half with the 4 inch sides together and sew the side up making a tube.  Turn right side out and fold the ends in a ½ inch and sew ends.  Now just put on your ring or clasp and make a loop to hold it on and sew to the sling just under the pocket on one end.  You will want it on the opposite side of the side seam, and make sure not to sew on that pocket!
Take your elastic and pin the safety pin to the bottom like shown.
Thread the elastic through one pocket and gather.  Decide how much you will need to trim off.  This will depend upon how stretchy your elastic is, just make sure you can squeeze the golf ball through, but that it is tight enough to hold the balls in.  Also, leave an extra inch to sew the ends together.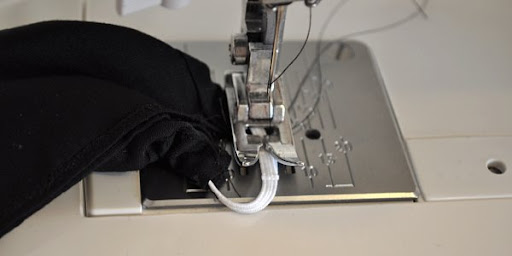 Overlap the ends about a half inch and sew with a zigzag.  Make sure to back stitch a few times to make sure it is good and tight.  Now just take the openings on this pocket and overlap them a bit and sew a vertical stitch to close them up.
Now on the other end you will thread the cord and tie the ends into a knot.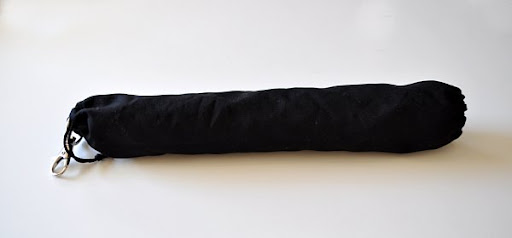 All done!  So easy.
Here it is with a clasp….
Or you could just use a ring like I did on this one.
Let me know if you have any questions in the comments and I will answer them there!
I have a fun way to wrap these up too, that will be coming up later!