I know, Valentine's Day crafts already?  I figured the way time is flying it's really just around the corner!  I wanted to share a fun Valentine I made for my kids that re-purposes tin cans.  I love to make my kids a handmade Valentine every year because it gives me a chance to personalize it to whatever it is they are into at the time.  My boy is totally into monopoly at the moment, and my girl is obsessed with black, white, and red.  Using their interests makes them feel special, and that is what the day is all about.   This would be a great craft for the kids to make too.  Perfect for friends, teachers and grandparents.  All it takes is a few tin cans from your cooking, some craft paper and left over crafting materials.
Personalized Tin Can Valentines
Supplies:
soup cans or something like them, make sure there are no sharp edges
ribbon, paper, stickers…you know, fun stuff
double sided tape
glue gun
scissors
pipe cleaners or wire
drill
basket filling paper
First gather supplies
Drill hole in can using a small bit first, use larger drill bit to make a hole about the size of a hole punch.
measure your paper and cut to the size of your can
wrap paper around the can and with a pen mark the holes where the handle will be
punch the holes out with a hole punch
with double sides tape, tape on the paper matching the holes up
I chose to put two different ribbons around the middle so I measured and used double sided tape to apply
For the handle get one or two pieces of pipe cleaners in matching colors and put together and wrap around a pencil or dowel rod.
Pull dowel out and you have a curly handle
secure the handles in the holes and wrap around itself.
decorate the outside of your can with whatever you like
Fill your can with paper basket filler and candy and your done.
The second can I did was for my son.  He loves monopoly and for Christmas he got this chocolate monopoly game so I saved the paper and cut it up for his Valentine can, which I know he will love.  I just used a simple wire for his handle for a more "man-ly" look.
I hope you enjoy making this easy craft with your loved ones :)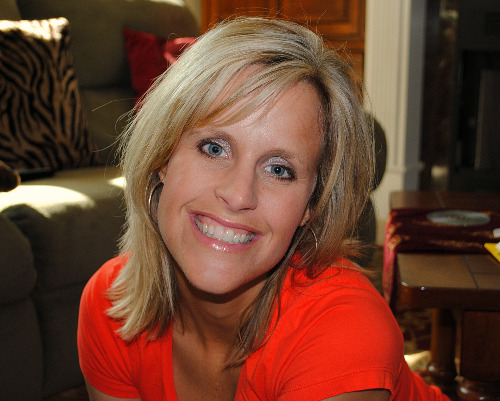 Suzanne is a regular contributor on TMH and can also be found on You Made That? Where she shares her adventures in the kitchen.  For instance, her Oatmeal Peach Roll-ups are all the rage in the roll-up food world…yum!