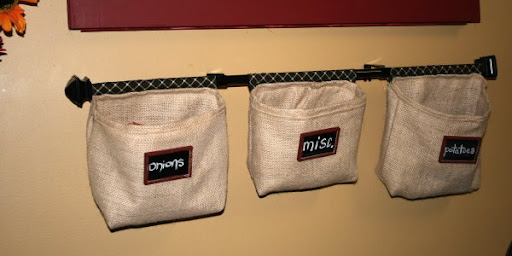 I was so excited when Cheryl left a comment saying she had made a bunch of hanging baskets from my tutorial, including some for her kitchen made out of burlap, brilliant!  I emailed her begging for pictures, and lucky me she sent some!  Then I could run to my husband and say "See, I don't take a million pictures for a tutorial for nothing!"  He always laughs at me during the process ;).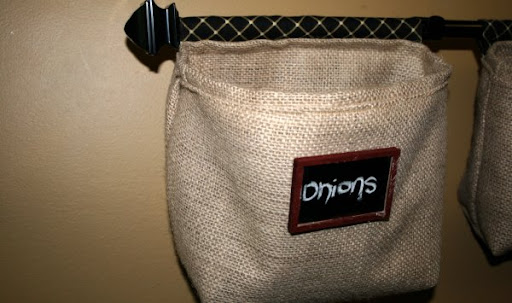 I would have never thought to use burlap, which is perfect for the kitchen, it gives you an organic look.  And for onions and potatoes, even better.
Cheryl also shared the how-to and said she wouldn't mind at all if I shared, sweet.
How to Make Hanging Burlap Baskets
Here is what she had to say:
"They are all different sizes because I sort of tweaked the measurements in your tutorial. The one in the middle was my first attempt.  For the life of me I don't know why I didn't write down what I did…..so, my other two were different.  I just made lemonade with that batch of lemons and put the bigger two on the ends and the smaller one in the middle as if it was by design!!
I found little chalkboard frames at JoAnn and painted the outer edges red to match my kitchen.  My mom and I hung the baskets and hot -glued the boards to the bags.
I love them!!  They free up so much space from my kitchen island and really are unique little decorations that are also functional!"
That is the great thing about these baskets, you can make them any size.  But Cheryl makes a good point, if you are wanting them all to be the same size make sure you write down the measurements of the first one.  Or you could just make them all together and cut them out together.  Also, it looks like she skipped the interfacing, which would really speed up this project, and they look great!
I thought I would give you a supply list just in-case you are running out to make you some today:
Supplies:
burlap fabric
little framed chalk boards
paint in desired color
hot glue with gun
decorative rod
Use this tutorial for hanging fabric baskets, then just follow Cheryl's instructions above.
Thanks Cheryl so much for sending in pictures and giving us the how-to, they look amazing!
ps…this is an invitation to send in any of your other fabulous ideas….just sayin'…..
pps…my 20 month old just walked up and kissed me all over my leg, out of the blue.  How cute is that?  Totally makes up for the cereal she spilled all over the  floor :)