Who doesn't love banana bread?!  If they don't, why do I want to know them?  Seriously, along with eating lots of junk, I do try to make things a little healthier for my family and my self and if it tastes delicious, then all the better.
If you haven't been introduced to flax-seed you must be living under a rock because it's a buzz in the health community.  Flax is very heart healthy, rich in omega-3's+ it has protein and fiber, it's a super food.  It tastes a bit nutty but over all very mild.  I prefer the organic light ground flax seed because of it's more mild flavor.  People think they can eat the flax seed whole and get the benefits, but not true it must be ground to get any benefits.  In it's whole form it just passes through the digestive system.  The great thing about flax is it can be added to baking recipes  in place of eggs because of the fat content in the ground meal.  Flax can be added to smoothies, oatmeal, breads, muffins and cookies.  My kids don't know the difference when I add it to my pancakes and waffles or oatmeal, although I have never made any one of these straight from the recipe I'm always sneaking in some extra 'good for you' stuff.
The second heart healthy ingredient in this banana bread is oatmeal.  Oatmeal has long been noted for it's cholester0l lowering effects and if your cholesterol is low then fat can't stick to the lining of your arteries which makes your heart thank you! But did you know that oatmeal can help you feel full longer so dieting becomes easier!   Diet and easier in the same sentence sounds good to me.   Oatmeal is so good in many forms, for 10 reasons to eat more oatmeal just click here and enjoy it's heart healthy benefits.
Okay I'll stop the health lesson and get to the yummy recipe.
Heart Healthy Banana-Oat Bread
Ingredients: 1 1/4 cup of wheat pastry flour 1/4 cup of ground flax meal 1/2 cup unpacked brown sugar 1/4 cup honey 1/2 tsp. salt 1/2 tsp. soda 1/2 tsp. baking powder 3 T. of canola oil 1 large egg 2 large egg whites beaten 3 large ripe banana's mashed 1 cup uncooked old fashion oats or quick
Preheat oven to 350 degrees.
In a large bowl stir together bananas, oil, eggs,  honey and oatmeal.
In a smaller bowl mix  rest of the dry ingredients.
Add dry ingredients to wet and stir well.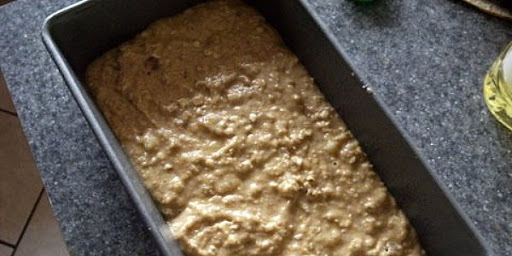 Spray loaf pan with vegetable spray and add batter to pan.  Bake for 45 to 55 min.
Cool in pan 10 minutes then turn out onto a wire rack.
**To make muffins from this recipe you will want to fill the muffin cup about half full and bake for 20-27 minutes.  Be sure to spray you muffin tin with vegetable spray!**
Enjoy!
Shared this post on Hoosier Homemade Cupcake Tuesday, have you been over there?  Fun stuff!