Holiday Memories and Traditions post by the fabulous Kim from Mom Tried It.

Whenever anyone talks about a favorite Holiday Memory my mind instantly flips through to Christmas 1983 (I'm dating myself – I know). It one of my all-time favorite memories. This was the last Christmas my family would spend together. My parents would get a divorce the next Spring and we would have to move back to the U.S. My father was in the military and we were stationed in Germany.
I loved Germany. We lived in a very small town outside out of Gelnhausen called Hain Grundau (there is supposed to be an umlaut in there, but I can't do it on my computer). There were only a few military families living there and the small town embraced us. I think they liked us because the military families brought children to this tiny town. Most of the town was what I would consider senior citizens. Their children grew up and moved to the big cities.
There was one couple that was very special to me. They were my "German" grandparents. Their daughter and her husband lived in the neighboring town and visited every week, but Oma (German for grandmother) couldn't get around very easily and I visited every day. I would walk the dog and sit and talk with her for hours. We would have afternoon coffee and cake together. It made me feel so grown up. She cared for me like I was one of her granddaughters.
From left to right: Helmut (their son-in-law), Inga (their daughter), me (at age 8), Oma, my mother holding my brother, and my father. Opa was taking the picture.
Opa (German for grandfather) was a farmer. They had an apple orchard and cornfields. During the Spring and Summer you could see him working the fields with his horses.
On Christmas Eve that year Opa and Oma came up our street with a giant wooden sleigh pulled by two of his horses. He asked the parents of the small children on our block if they could take us for a ride around town in the sleigh.
My friends and I spent what seemed like a blissful eternity riding around in an actual horse drawn sleigh. Oma served us a hot drink that tasted like coffee and hot cocoa combined. It was heavenly.
I can still smell the coffee and chocolate that layered with the crisp night air. I can hear the bells jingling on the horses. I remember my body being so warm under the layers of Oma's handmade quilts, but my face being so cold that it hurt. That it didn't stop me from grinning ear to ear.
My eyes are tearing up as I write this. That was a beautiful and magical time. It was honestly the sweetest moment of my childhood, and one of my last. My world would soon be turned upside down and my childhood over. But no matter what, that moment will always live forever in my mind and my heart.
A few years ago I was at Christmas party and smelled that moment of perfection. I looked around the room and could not find where it was coming from. I asked the hostess about her candles, but that wasn't the source. She had made what she called "Cocoa Coffee". I tasted it and it was almost the same as the drink I drank a couple of decades earlier.
I asked for the recipe and now I am sharing it with you, just click for the Cocoa Coffee Recipe Card. While it may not take you back to that small German town in 1983, listen really closely and you just might hear the sleigh bells.
Thank you to Kim for sharing her story.  I personally have already went through a batch of her Cocoa Coffee, and the picture above is the actual drink, so good!  I also made up a recipe card you can print off, just click on the card and print!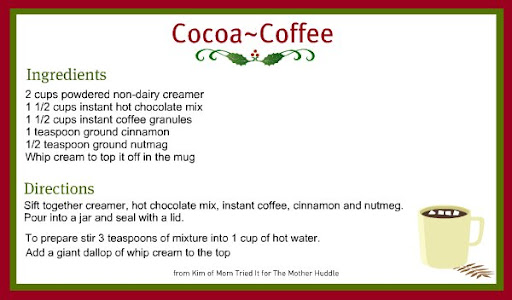 Linked to Beauty and Bedlam Tasty Tuesday, she has a great recipe for Freezer Cookie dough for neighbors!