I am freezing! As we speak I am wearing long pants, a long sleeve shirt, a sweatshirt, fuzzy socks, and I am considering putting on some gloves now that I am typing, because I can't keep my hands in my pockets. No our power isn't out. I just happen to live in a very humid part of the country and in a very poorly insulated apartment and it is ridiculously cold outside. I'm so ready for spring!
Now that you know my mind set you will understand why I am so excited about this recipe. Nothing warms me up like a bowl of yummy soup for dinner. And soup taste extra yummy when it is served in a bread bowl. Right!
I have always wanted to try making homemade bread bowls, but was to chicken and figured it must be super hard. I was sooooo wrong. I made them twice last week and they are my new best friends. Even if you have never made any type of bread before, you can do this! You don't even need a bread machine or a special mixer to get the dough just right. All you need is a hand mixer and your muscles.
At first I was thinking I would just use my regular bread recipe, but then I got a little nervous that maybe it would rise differently or not be the right texture. Feeling a little uncomfortable with that idea I decided to see what the Internet Recipe World had to offer. As usual 'All Recipes' did not disappoint. I found this recipe, and it worked beautifully. The recipe says they freeze really well too.
Tips for the Bread Bowls:
* If you have never made bread before and aren't sure what kneading means. You basically just keep folding the dough over on itself and press it down again with your palms, just keep bringing the edges in and press. Set a timer so you make sure you do it for 6 minutes.
*If your house is as cold as mine lately, they are going to have a hard time rising. If you have something simmering on the stove place the dough near the stove.  Just make sure they are some where a little warmer then normal. Use a glass or plastic bowl to let the dough rise in.
* If you have it, use bread flour. It will help your bread rise a little better too. I had never used it before and decided to try it. I can't be entirely sure but I think it helped a little. I also used 1 1/2 cups wheat flour because I really struggle eating 100% white flour bread. Don't get me wrong I think it is delicious, I just picture a big ball of glue in my stomach. Not that 1 1/2 cups out of 7 is going to make a big difference but for some reason it made me feel better. I am going to keep experimenting  to see if they still work half and half.
*The recipe says to test the temp of your water. If you don't have a themometer like me just make it about as warm as you make your kids bath water.
*If you have a container of yeast instead of little packets use just a little more then 4 tsp.
I made Cream of Broccoli soup and Corn Chowder, and we had some friends over. The bread bowls made a normally kind of boring dinner seem special. I was thinking it would be a fun tradition to make these every year for Valentines Day, and then decorate sugar cookies for dessert. I have a great sugar cookie recipe I'll post next week (as soon as I make them so I can take a picture. :) ) For now I'll give you a recipe for some delicious Oatmeal Walnut Cookies. My husband has been obsessed with these lately. He made some last week and then last night when I got home from the gym he was making more. I think he's trying to sabotage my efforts.
This recipe is from one of my favorite families in the world. I love them! Alison is my age and her mom would make these all the time. The are chewy and delicious. Go ahead try 'em.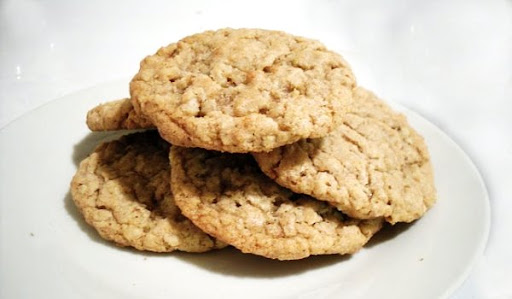 Oatmeal Cookies
  1/2 cup real butter 1/2 cup shortening 1 cup white sugar 1 cup brown sugar 2 eggs 1 tsp vanilla 1 1/2 cups flour 1 tsp salt 1 tsp soda 1 tsp baking powder 3 cups oats (we use old fashioned) 1 cup chopped walnuts   Cream butter, shortening and sugars together. Add eggs, and vanilla. You can sift all the other stuff together in a separate bowl if you want to before you dump it in but I never do, just add everything else and mix thoroughly. Use a cookie scoop or drop by large teaspoon full onto a lightly greased cookie sheet. Bake 8-10 minutes in a 350° oven.