I am so excited for this post today!  Destri has put all of these ideas together on how your kids can make the cutest homemade tree decorations.  Can I just say she is amazing? She is the brains behind The Mother Huddle and brought all of us mothers together.  Thanks Destri, you are the best!
Homemade Ornaments for the Little Ones
Every Christmas season I have these grandiose ideas of the traditions I would like to start.  I usually develop on one idea and then am left sitting, looking at the tree on Christmas morning, wondering how everything went so fast.
So in an effort to capture more memories with my family this year I decided I would host a tree trimming party with all the kids.  I took out the ornaments, dusted off the star, and immediately had images of my three year old launching the glass bulbs at his cousins.  Realizing this was not quite the memories I was after, I had the thought that maybe it would be fun to have a homemade tree this year.
So I will put on a pot of chili, throw some doughnuts and hot cocoa into the mix (just like in the movies) and sit back (ya right) and watch their crafting splendor.  It plays out perfect in my head…depending on how it actually goes, I think the ornaments turned out so cute I will have them come trim the tree annually!
Ribbon Candy Garland
I had these packing peanuts leftover from a package I sent, and noticed they looked similar to the ribbon candy my mom used to fill our stockings up with.  I think they make the cutest handmade garland I've seen in a while if I don't say so myself!  I mean seriously they look so good you could eat them.  Oh the possibilities with these little beauties!
Supplies:
Foam packing peanuts you are sure to have laying around
Red and Green markers (helpful if they are washable)
Invisible thread
Needle
Just let them color the peanuts then thread them onto the line (let the younger ones color, older ones thread).  Seriously these turned out so cute.  I may have to steal these and put into a tall glass vase or something, yes I think I may…
Frosty
This is for the older ones

Supplies:
Red, orange, white pipe cleaner
Foam balls in three sizes
Twigs, with glitter glued on if desired

Mini pom poms
Black beads
Toothpicks

Red fabric, cut into thin strips
Start things out for them by slightly cutting off one side of each ball, just so they fit together a little better

Secure the balls together using the toothpicks by inserting them through the center on each side of the middle ball, then add the top and bottom


Cut equal lengths of the red and white pipe cleaner and twist together creating the band for the ear muffs, place over head

Take the pom poms and secure them with thin wire (I used green floral wire) bent at the end to hold them on

Press beads into foam and they should stay

Snip a little piece of orange pipe cleaner for the nose

Give him some arms, wrap him in a scarf and now you have a Frosty!
Fabric Ornaments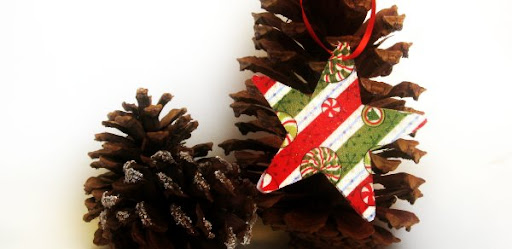 This one is easy, good for 4 and up
Supplies:
Scrap fabric with medium interfacing ironed on
Christmas cookie cutters
Ribbon
Scissors
Let them trace and cut out the shapes.  Cut a small slit in the ornament and pull the ribbon through, tie a knot to secure.
Candy Canes
Again, this one is super easy, for 2 and up
Supplies:
Red and white pipe cleaner
red ribbon
Twist the pipe cleaners together and form into a cane.  Tie two together with the ribbon.  I cut standard length pipe cleaner in half to make two, it seemed to make the perfect size.
Glitter Pine Cones
Easy peasy, as young as you dare!
Supplies:
Pine Cones (I  bought the cinnamon ones, mmm)
Craft glitter
Modge Podge, or Elmers
Dip the tips of pine cones into the glue and then roll in glitter.  They could even tie ribbon to these or glue some jingle bells and evergreen to them.  Whatever suits their fancy.
If you are looking for more fun Homemade Christmas Ornaments the kids can make, check out our Bead and Felt Ornaments.  So fun and easy!