I know about ten years ago vinegar making was really "in" for decor in the  kitchen – but I'm talking about the kind you eat and use in your cooking.  Yes you can make it pretty too by putting it in pretty bottles but you can also just use a canning jar for the no-frills.  It's a great gift for someone with the recipe for the salad and vinaigrette attached.
I love strawberry salad with this awesome vinaigrette I make, so I'm going to share the love and give the know how on this delicious spring recipe.
Things you will need:
red wine vinegar about a 12 to 16 oz. bottle
1/4 to half cup sugar
fresh or frozen strawberries
coffee filter
glass quart canning jar
funnel
The vinegar takes 2 days to make, but is so easy.  First dump your vinegar and sugar in a non-reactive pan and turn on medium-low heat, simmer for 30 minutes, never boil.  If you want to do this step in the microwave that's fine just watch it and make sure it doesn't boil.  Next, wash and hull the berries.
Slice the berries and add to the hot vinegar, cover and let stand till cool.  After they've cooled, I take a fork and mash the berries a bit to let out the juices and flavor.  Cover overnight.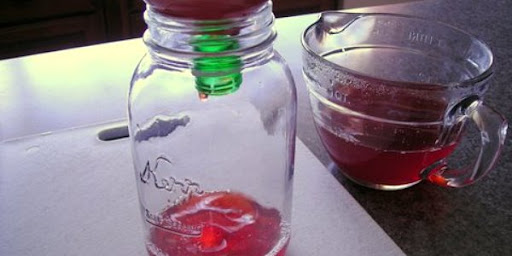 In the morning get your glass canning jar, funnel, and coffee filter ready by putting the funnel inside the jar and the coffee filter inside the funnel.  From the pictures you can see my funnel is the top of a pop bottle, it works perfect for this.  Now slowly pour some vinegar into the filter and let it drip in to the jar.  Repeat this step several times – you will need to change your filter a few times so it will drain out properly.  When done filtering the vinegar put into a pretty bottle or let it stay in the jar you used.  Make the salad and the dressing now and enjoy.
Tips – You can make the salad dressing with plain red wine vinegar it's just not as good in my opinion.  The recipe for making the strawberry vinegar can be used with other berries like; blueberries, raspberries,  and blackberries.
Strawberry Vinaigrette
½ cup strawberry vinegar ¾ cup sugar ½ tsp. dry mustard powder 1 T. minced fresh onion 1 tsp. poppy seeds 1/3cup to ½ cup vegetable oil 1 pint or basket of fresh strawberries washed
Put all ingredients into blender except oil.  Blend on med-high with lid on and while still blending take out middle of lid and slowly add oil until all is emulsified.  Refrigerate & serve with Strawberry Salad.
Strawberry Salad
1 small bag of baby spinach leaves 1 cucumber peeled and sliced ¼ to ½ red onion sliced thin 1  16 oz. basket of strawberries ¼ cup sliced almonds toasted
Lightly toss all together with strawberry dressing.  You can make this meal by adding sliced chicken.
I also like to make other vinegars with different herbs and fruit.  I use the veggie vinegars when making Italian dressing from the packet or in potato salad, black bean salad, cucumber salad, marinating meats,  soup and stew too.  Vinegar gives a depth of flavor to these dishes that can't be found otherwise.  Everyone always loves my black bean salad/dip but some can't seem to reproduce it and my homemade flavored vinegar is why, so now you know the secret.
Garden Vinegar
Ingredients
2 T. peppercorns 1 green onion to fit in bottle or jar 2-3 baby carrots 2-3 cloves whole garlic red or green bell pepper strips jalapeno (if you like a little heat) a sprig or 2 of flat leaf parsley 2 asparagus (if in season,too expensive if not)
Wash veggies, put them in the bottle or jar however you'd like.  Heat vinegar until very hot but not boiling, then pour hot white vinegar in the bottle.  Can use the next day but if you aren't in a hurry to use the vinegar just pour cold vinegar in the bottle and wait 2 weeks until you use.
Tip – The vinegar will turn a dark color because of the peppercorns so you can choose white peppercorns and it won't get as dark.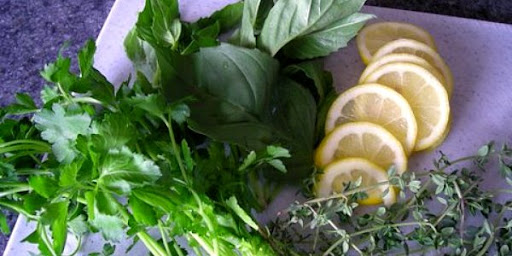 I just add a bunch of my favorite herbs to a jar with some slices of lemon, lime,  whole garlic cloves, peppercorns and you have a nice herb vinegar.
I hope you have fun making some delicious vinegars, what would you add to yours?  Any ideas?
Shared this on Kimba's very cool ASPTL diy day, and the very inspiring Today's Creative Blog, also on Skip to My Lou