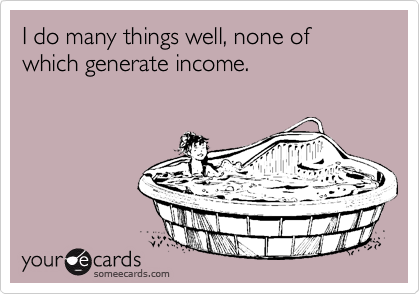 image via
Each time I mention I make hair accessories for a local boutique I receive a few emails asking me how I go about it.  Do I sell them wholesale or sell on a commission basis?  How did I approach the stores?  How did I get started?   Do I really make any money?  After answering these emails, I realized I wasn't really helping anyone with a small explanation.  So I am making an effort to give a detailed outline of how I went about it, and how you can too.  I am making my extra income making hair accessories for a boutique, but really you could apply my model to most hobbies. I was able to do this with very little overhead, minimal time (about 15 hours a month), and started earning fairly quickly.
I am going to make this a three part series, as I tried to fit it all in one post and it seemed too vague to be useful.  You know I like details :).  I will try to be as transparent as possible, share the pros and cons, and hopefully in the end you will have a detailed outline of how you can pull in a little (or a lot of!) extra money by Christmas.
Let's get started!  Here's what we'll cover:
Part 1 – How, Where, and What to Sell.  My personal experience on how I decided on all three of those factors.
Part 2 – Make A Plan.  What's your time worth? How do you approach a store owner? What kind of incentives can you have? How do make sure you make money?
Part 3 – The Nitty Gritty.  A few things to keep in mind when turning a hobby into a job, even if it's a little one.  Some what-to-do and what-not-to-do tips.
Catch me after the jump for Part 1…
How, Where, And What To Sell

My family was getting ready to go to California for a wedding in the mountains and then extend it to a family vacation on the coast. We had already spent heaps on the trip between airplane tickets and hotels, and I knew that my husband was feeling a tad stressed by it all.  We were planning on taking our kids to Disneyland and to do some other fun things.  I really wanted to have a spot of cash we could spend knowing it wouldn't effect our (already blown) monthly budget. I had one month to do it, I just had to decide how.  I love to make things, and I stay home with my kids.  So the natural choice was to make things from home I could sell.  I generally am making things for my kids, so making things along those lines made sense.  Now, where do I sell them?
How Best To Sell My Product?
Online Store
I have always kicked around the idea of opening an etsy shop or something, but they take a lot of time if you want it to be successful.  You have set up the store, think of a name, get a banner, take great pictures of your product, post those pictures, and advertise, advertise, advertise.  Then there is the shipping and time spent with convos, emails and overall working with the customers – and of course competition.  Lots and lots of it.  Also, with TMH I already spend enough time on the internet.  I just didn't have the time to commit to an online shop.
Consignment Shops
So I decided to see if I could find somewhere local to sell my things.  I first looked into some different consignment shops that I could sell at.  Most of them took a 50% cut and one charged for the space you used on a month-to-month basis.  I could make money, but only as the items sold.  That wouldn't work for me.
Wholesale
Then I thought about selling wholesale.  I know from my days of hairdressing how it could work.  I make a bulk amount of items, sale to a local business at a wholesale price, and then they sell them at retail prices.  At first I thought I would lose half my earning potential, but when I looked at the details, I knew I could come out ahead better than any other approach given my circumstance.  Here's how:
I would only have one customer to work with
I would have no shop to keep up – no worrying about taking pictures and posting products
I would have no advertising to pay for
I would have no packaging materials to pay for
I wouldn't have to worry about shipping – getting it out in time, items getting lost
I would make the money on the spot, vs. over time
So I had found my answer.  Wholesale was best for me and my situation. Now what to sell?
What would my product be?
At first I kicked around the idea of sewing childrens boutique clothing. I had visited a few boutiques around town and knew that I could offer them something fun and different.  But when I looked at it realistically it would take much more time than I had, and I just didn't feel like I could sell the clothing at a price that would be worth my time. Also, I really think it would take the fun out of sewing for me, it would just stress me out.
So what to do?
Well, I went scoping out a high end boutique one day and found something I could make for them that they didn't have – boutique hair accessories.  They had a ton of bows, but that was it.  No cute rosettes, no ruffles, and no fascinators.  I could offer them something they didn't have, and something they could easily sell.  I knew I could make them quickly and inexpensively making for a short turnaround on my time and money invested.
I let my mind wander into thinking all the little things I could make for them, but if I spent the money I would need to for all the inventory I wouldn't make any money!   Really I can list a bunch of things right here that would sell well in their store, but if I wanted it to be worth my time and money, I needed to keep to one product.
So the takeaway for part 1 is:
What's Your Niche?  Do you sew? Make home goods? Cook?  Choose a hobby that you enjoy, keeping in mind the time it takes and if you can make it worth it.

Identify the best approach for selling your product.  I was looking for minimal overhead on time and money, and a quick return on my investment of that time and money spent. That made wholesale my answer.
Decide on a specific product. Then keep it simple.  You can't do it all, and do it well. You won't make any money if you are buying materials to make 20 different products.
Fill A Need – Present a product a shop owner knows they can sell.  It needs to be unique, original, and in trend.  Look for something they don't have that will get them excited.
In part 2 we will cover how I approached the shop owner and with what incentives.  How I priced my product and made it worth my time, and overall workflow.
If you have any questions pertaining to what we covered today, leave them in the comments and I will do my best to answer them!
And if you have any tips on the matter, please share!
~Destri