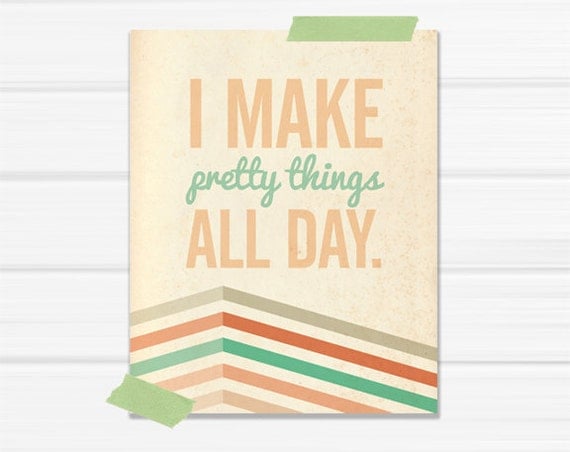 print available from Yellow Heart Art – the entire store is worth a browse!
This is part 2 of a series on how I make a side income off my hobby selling wholesale to a local boutique. Click here if you would like to read part 1 How I Easily Make $300 Extra Income Each Month. In part one I talk about my personal reasons to sell wholesale over opening an online store, how I chose my product, and a few other things to consider when trying to make money selling handmade goods.
Hello friends, I am sorry for the delay in sharing part 2 on this series but after the great response from part one, I thought I best come to the table in part 2 with some solid ways to approach a business, and there is no better way than to go straight to the source.  I went around to some smaller and bigger businesses in my town and asked how they like to do business with individuals selling their handmade goods wholesale.  I was surprised with the response and I think you might be too.
In part 2 we will talk about how I approached local businesses, and the findings I found in my field research (makes me feel all sorts of official saying that :)). I will share what type of incentives I offered to gain trust and loyalty as well.  We will save making a business plan and pricing your product so you can make money for part 3, as this was more to cover than I thought.
Let's get started!
How To Approach Businesses To Sell Your Handmade Goods Wholesale
I decided to go over how to approach local businesses first, rather than making a business plan first.  This just happened to be the sequence I went about it.  I felt like I had to know where I would be selling and what price points I could meet, it also determined the type of product I made, which in my case were hair bows.  Of course this was my unique experience, so just take away what you can and apply it to your situation.

For my personal experience it was walk into the store get a dialogue going and ask if they would be interested in seeing my work.  I had already determined that I wanted to sell at a children's boutique so that is where I centered my attention.  I saw that the boutique had only one type of hair accessory and knew that I could offer them something different that they could easily sell – and basically that is what I told them.
I introduced myself and asked if she were the owner/manager and then told her how much I loved her store, and how it was just the place I was looking to sell my handmade hair accessories.  She then asked about my product.  I said something along the lines of "I love the hair bows you have, and I think what I make would be a great addition to them.  I make hair fascinators, rosette headbands……"  It was about right there in the dialogue that she interrupted me and said "Yes, that is what we have had customers requesting!  Especially the fascinators for pictures."  I offered to bring some in for her to look at she said that would be great, and that was it!
I was so excited I went to three more boutiques that day and pretty much had the same response from each of them.  I was set to make enough money to pay for our entire trip to California the way I saw it.  But in the days following I came to my senses and a few conclusions:
if I sell my hair accessories to all the boutiques in town there would be less demand for my product
if I sell my hair accessories to all the boutiques in town, I was bound to lose credibility with all shop owners
if I sell to only one boutique within a certain amount of miles, I would have an incentive for the shop owners – they would have an exclusive product
So I decided to only take my product back to one local boutique, the first one I had approached.  I chose that boutique because of all the ones I had visited, I felt it had the best chance of moving the most product. They had a great sales mentality.  The more they sell, the more I can sell to them. It was simple. Plus, I liked her and knew she was excited about doing business with me.
When I returned with my product I informed her that I would sell to her exclusively, and because of that I needed to sell at a bulk rate of at least $300 dollars to start.  Meaning that I couldn't just sell her $100 dollars worth of  hair accessories and have it be worth my time.  After the initial first purchase we could see how well they sold and determine a monthly inventory that could work for both of us.  She agreed to my terms and bought $360 dollars worth that day.  Wahoo!
That got me excited and I decided to reach out to a couple boutiques in surrounding areas that would not be competitors to my local boutique.  I had found one large boutique about 2 hours drive away, and one that was an hour.  I figured I could make one trip to them and after that mail or make a monthly trip.  I approached both of them by telephone.  One owner asked me to bring them in for her to see, and the other asked if I could send her an email with pictures first.  I sent the email with my terms of selling exclusively to her in that area, and she told me to come on in.  Both seemed genuinely interested and I was confident that they would be new customers.
But then life happened!  My house went on the market and I am now moving across the country this week.  So I have just stuck with my original shop owner and it has worked great.  I am able to sell $300 of my product a month to her with only 12 hours of work each month.  If I were staying in the area I am certain I would have had a couple more boutiques to sell to, and I could have brought in a solid $900 extra income a month.  When I look at the time I have to spend on it, that would probably be my max.
Bottom line is brick and mortar businesses have an overhead they need to cover.  They have to man the shop itself and they don't have time to make all the product to sell as an online shop does.  They rely on quality products they can buy at wholesale to make money.  So if you have a great product that you know they can sell, let them know! They will more than likely be excited about the chance to work with you.
Remember that if you are trying to sell a product you are a salesman, so you have to think like one.  Talk to them in a language that lets them know you understand their business.  For instance "I know you have a lot of customers shopping for special occasion dresses, we could make custom hair pieces to make an easy add-on sale".  Provide examples of trends and how your product will meet those trends.  The shop owner is running a business, and the more you show you can think from their perspective the better.  If they can make money selling your product, and if you can help them see how – you have yourself a sale.
Here are a few tips to take away:
Don't pop in on a busy Saturday afternoon when they are busy
Dress nicely and smile
Be enthusiastic, excited, and confident about your product
Offer suggestions for how best to display your product
Offer products that are easy add-on sales
Present a unique product that is in demand and on trend
Know their customer base and what would sell
Offer product suggestions
Now for my field research.  I basically thought of a few different places that might buy handmade goods and then called them up or went in to talk to them.  I just wanted to demonstrate how you can think outside of the box when looking for potential businesses to work with.  Hopefully it will give you an idea how you can branch out with whatever your product is.
In all of the instances I explained that I was doing research for an article on selling handmade goods, and wanted to know how best someone could approach them for doing business on a wholesale basis.
I called a large store that sells mainly gift items of all sorts and asked for the manager. Because of the size, I was certain it was ran by employees rather than the owner, so I opted not to go in.  She said that they are always on the lookout for local handmade goods, and actually had a section just for that – who knew!  She stressed that it had to be top quality and that any returns fall back on the wholesaler. They preferred an appointment to be set up with a formal meeting.
I went into a high-end salon and spoke with the owner. I went when I knew it would be a slow time and he had a few minutes. I told him why I was there and he said he had never thought to bring in anything handmade.  I explained how hair accessories would be a great add-on sale, and trust me this industry makes a good amount of their money on these kind of sales (I used to do hair – I made half my money from product sales).  He was excited about the idea and said that he would love to just have someone offer!  
I went into a local high-end china type store – they sell nice china, silver flatware, and gifts.  When I explained why I was there (speaking with the manager) she said she really didn't think there was anything handmade they could sell.  I offered a few suggestions such as hand-embroidered dish towels and aprons.  She thought for a minute and said that might work, and she would definitely consider working with someone on a wholesale basis.
I went into a bridal boutique and took a few of my wedding-ish hair accessories with me.  I told her why I was there and she said that they actually carry hair accessories and can't sell them.  I explained that online there is an entire blog community devoted to weddings and they feature a lot of handmade goods and brides are probably drawn to that.  They carried old fashioned hair pieces and maybe offering a few retro or elegant pieces, and flower girl type might do well. I couldn't tell if she was offended or not (I hope not!), but said she would buy from me on the spot.  I wasn't selling, but hey, that could have been a sale!
I have a local coffee shop I frequent so I asked the owner if she ever thought about bringing in some handmade gifts for the holidays.  She said no, but if someone came in with something she loved and on target to her customer base she would definitely consider it, especially if it were offered in a ready to give package. She preferred someone to call first to set up an appointment.
So there you have it!  They were all interested!  I hope this encourages any of you that are looking for a second source of income.  I can think of several different businesses I could have contacted with several different product ideas; vet office for handmade pet items – tutus for dance studios – shoe clips for shoe stores – camera straps for camera shops – the possibilities are endless!  Just remember from part one – keep it simple.
In part 3 we will discuss my personal approach to setting up a business plan.  I am quite certain there is a better way, but hey, it worked for me.  Also, I might have a guest appearance or two for you!