I know what you're thinking, "Destri, the fabric flower has been done before, like a million times".  But I am so excited with how these turned out, so will you indulge me?!
These fabric flowers are so easy, and you don't even need a sewing machine if you use the right fabric.  They can be used for hair clips, or brooches, pin them on a hat or purse, flip flops….
Fabric Flowers
Supplies:
fabric scraps
needle and thread
button
scissors
hot glue
clip or pin
sewing machine if you want to sew around the edges
Start by cutting out three flowers.  They don't have to be perfect, actually the flower ends up cuter if they are not.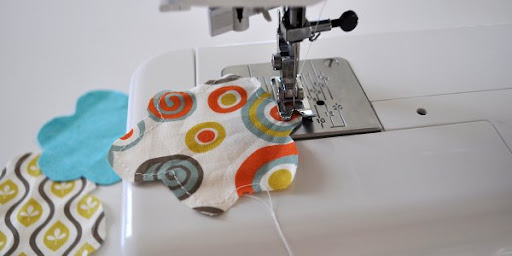 You can skip this step with the right fabric, like I did for the turquoise flower, but for regular woven cotton the flower will hold up longer if you sew along the perimeter.
I used a longer stitch length like a top stitch to give it more of a hand stitched look.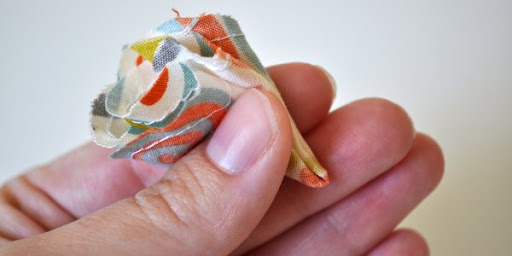 Now gather up the one of the flowers with the center coming to the point like shown.
And then cut the tip off about a half an inch down, leaving a hole in the center of the flower.
Next you will get out your needle and thread and sew a few large stitches around the perimeter of the hole as shown.  Make sure that you start and end on the underside of the flower, so the strings are in the bottom.
Now take the loose ends and cinch the stitches to gather up the center and tie a knot to secure.
At this point you will layer the flowers, biggest to littlest, and add whatever embellishment you want to the center.  Maybe a rhinestone, or in the case of these flowers, a button.  I dug out my bag of vintage buttons, but still ended up using the ones I just bought :)
Now just sew the button on, you're almost done!
Depending on how you plan on using the flowers will determine the kind of clip you use in the back.  I really like this combo to be used as a brooch, or hair clip.  Just glue the clips on to the back of the flower,  then place a piece of felt sandwiched between the clips as shown then glue the felt on either and glue.
And you're done!  So easy!  Now go stick it on your purse, shoes, hair….