A bunch of you have asked for the how to on the candy cane candle holders, I am so glad you liked them!  You never know if you are the only one that thinks something is cute, you know?  They are super easy to make.  We're talking fifteen minutes for two.  They are super inexpensive too, costing about $1.50 each.  Let's get to it:
How To Make Candy Cane Candlesticks
Supplies to make two:
20 candy canes
2 taper candles
hot glue gun
scissors
I started by cutting off the plastic wrapper on just the two ends of the candy cane, leaving the remaining wrapper in tact. You could leave your ends on, by mine were pretty long and buggin' me.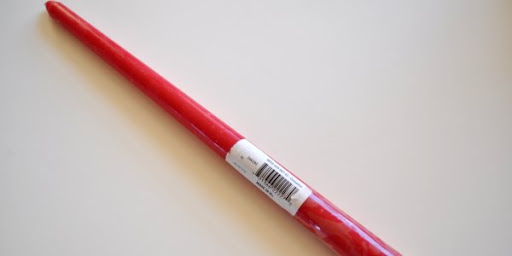 Next I took the wrapper off, leaving about six inches on the bottom.  To measure how far you want to go down, just hold a candy cane to the candle, you want to wrapper to be below the candle.
Then run a thin strip of glue along the candy cane and press onto the candle, with the hook on the bottom.  I will warn you, you can't play much with the candy cane once it is on, it dries fast!  I worked the rest of the way around by holding the candle in my hand by the hook (so the candle was upside down), and found that to give me the best control when placing on the canes.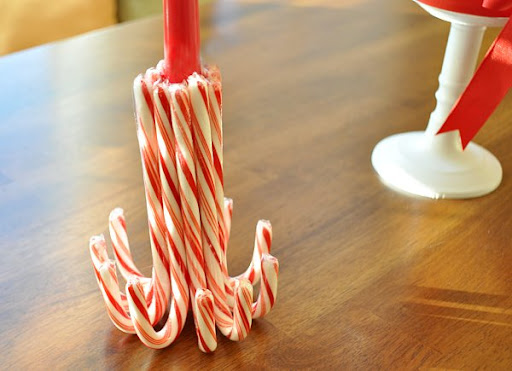 Continue gluing the canes on, trying to keep the same angle of placement, and the base of the hooks at the same level.  Let dry and you're done!  So so easy.  On one of mine I did not have much room for the last candy cane, so it sticks out a bit, but I figure I am the only one that will notice. :)
I do think they look cutest with a little bow tied on, but I only had enough ribbon to squeak out one bow, yet another trip to the craft store…dang it.  For the candle at the top of the post I used a grosgrain ribbon and tried to keep it small.  Go to big and you might just overwhelm it.
So there you have it!  They would be great for gifts, especially if you make the candy dish to go with them!
I have a bunch of other stuff I have made, just need to find the time to post them.  I need an elf or two.  Anyone?