I was watching food network one day, I used to watch a tad too much of it.     The guy on the show said when hiring a new chef he simply had them make scrambled eggs.  If he could make a great batch of them he knew he was a good option.  Instantly my ears perked up…apparently this was serious business, and now I had to know how to make the best scrambled eggs.
I don't remember who it was or exactly he said but over the years since I think I have finally mastered them.  Even my hubby says so!
My eggs used to look like dry…pebbles?  Kernels?  I really don't know the right adjective here.  Just know the were uninspiring.  Look familiar? 
Start with:
4 eggs
½ cup milk or cream
tablespoon butter
salt and pepper
anything else you want to toss in – chives, tomatoes, ham…
Set your eggs out a little in advance so that they are almost room temperature.  Then in a bowl combine the eggs and milk or cream.  The key to this step is to not over beat the eggs.  With a wire whisk lightly beat the eggs until just fluffy.  You want parts of white left intact.
Over meduim heat cook your butter until foamy, then add the eggs…then leave them alone!!  Don't touch them until they start to set on the bottom a little.  That is the key to this step, you only want to stir the eggs about three times in the end.
So once they have set a little, gently stir with a rubber spatuala (scraper) making figure eights.  Just a few to bring the egg off the bottom.  Them leave them alone!
Once they have set up a little again (you don't want them to brown) you will stir them again.  This time with a folding manner almost. Just a few folds, then leave them alone.  This is the step you will add your extra ingredients if you want.
When they are still slightly runny, salt and pepper to taste, do one more fold and let cook for a few seconds, then take  them off the heat.  Put them on a plate!  Remember that they will continue to cook a little even after you have taken them off the heat. 
After a few times you'll be a pro!  You may find that you like more or less milk depending on the amount of eggs you are using, just play with it.
Now for the bacon.  I don't know if this the best, so much as it is the easiest.  I learned this from the Barefoot Contessa.  COOK IT IN THE OVEN!  Seriously.  It has been the best thing ever to happen to my Sunday morning breakfast.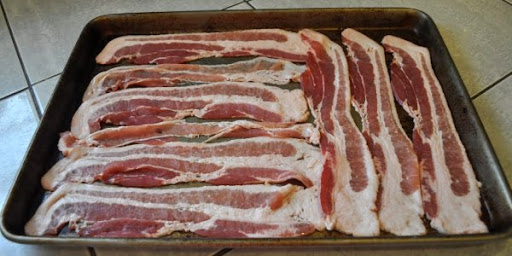 Just place your bacon in an old cookie sheet, then pop in the oven at 350°.  This is the first thing I do when making breakfast.  Then by the time I am done, the bacon is done.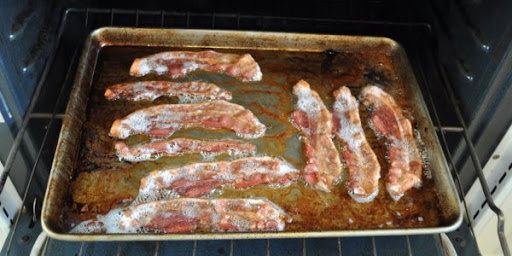 I forgot to time, but when it looks like this it's done!!  That's it.  No turning, no grease splattering, nothing.  You can even use your broiling pan to make the grease drip away from the bacon. 
This is also perfect for BLT's as the bacon is nice and flat, not all curly.
So, any tips for me?  How do you jazz up your eggs?