This is the first post that will be a part of the Boutique Style For Less Challenge.  You can find all the posts from this series HERE.
I am so excited with how this turned out!  This challenge was about taking inexpensive items and turning them into something you might find at a boutique or just have a little more character than the norm.  These totally fit the bill!  I saw this pair of jeans at Baby Gap that had an embroidered guitar on the pant leg, but the largest size they come in is 18-24 months, and they were thirty dollars.
So I skipped into Target (seriously, I did, I love Target), and bought a pair of $14.00 jeans that are a size too big so they ought to last him awhile and then appliqued on a little guitar.  You guys!!  They are so cute!  The pictures just don't do them justice.  They are so much cuter in person, and Hank loves them.  Even my hubbs likes them, and that is saying something.  You don't need a sewing machine for this, so it is a fun one for everyone!  Here is how I did it:
Denim Appliques
Supplies:
Jeans, new or old
Denim scrap for the applique
needle and thread
heat & bond
scissors
I started with a new pair of jeans, but you could use a pair you have.  I bought a another pair of shorts on sale for $3.00 with a matching denim color.  You could just buy a little piece of denim too, whatever works.  Make sure that if you start with a washed pair of jeans the scrap is washed too.  I did not pre-wash either of mine, as both were new…and I am too impatient.
On the wrong side of the denim I was using for the applique I drew a guitar with a sharpie.
Here is a picture to give you an idea of how big mine was.  It measured three inches long and two inches at the widest point.
From the heat & bond I cut out a piece that was just slightly smaller than the guitar.  I want the edges to curl up a bit when washed.  Then iron on per packages instructions.
Then position them on the pant leg where you want them.  I had mine mid thigh and off to the side. Iron on per instructions, but keep in mind denim is thicker, you may need to hold the iron in place a little longer.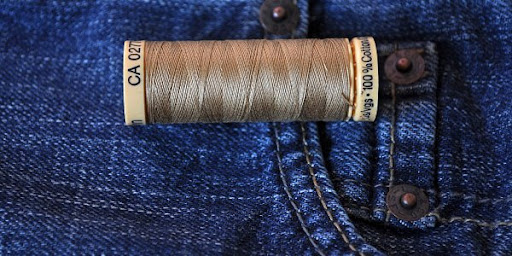 I chose a thread that matched the thread in the jeans.  You could use top stitch thread that is a little thicker, but I just doubled up mine and tied a knot at the end.  It will show up much better that way.
Now just sew a running stitch all the way around the guitar like shown.  Make sure to secure your ends good.
To make the little knots at the top I made the knot around the needle, pulled it down and then tied a second.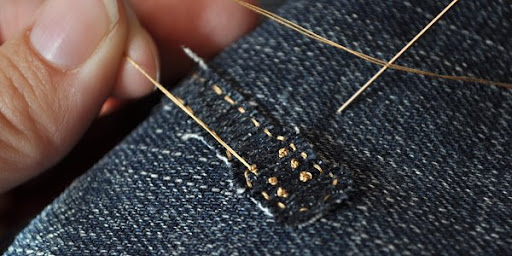 Tighten those at the base then just take your needle back through under the knot.
Then I added a little circle and a little bar at the bottom.  You could add strings, which I did to begin with, but it just looked jumbled to me so I took them out :).  And your done!
To pull the look together I found a guitar shirt at a local consignment store for $3 and I plan on making another that is coming up.  The jeans are darker than in the picture too.
At the end of this challenge I plan on having the linky for you all to add your projects to, more info here.
For those of you without blogs or just want to show off sooner add it to our flikr pool.  I decided we had better start using it.  It is sooo lonely, we need at least one of ya' to show us some flikr love!  I can't wait to see your take on the guitar!  You could do any design really…skulls, motorcycles…get creative!
Now one outfit down, lots more to go!  I will be back later tonight with another project.  A shirt that is sooo fun!  A quick no sew upgrade!
You can find all the posts from this series HERE.
Talk soon!
~Destri