First off I wanted to thank you all for your support here on Crafty Kids Corner.  It has been a great year and I have plans to make this year even better.  Having Destri here for a few days has inspired me!  She never ceases to amaze with her ideas!  I am excited for new and exciting things to come…there will be more on this later.
For today, I am excited to introduce to you Magic Powder.  What child does not LOVE magic?  This activity is so easy and fun!  Plus, I bet all the ingredients are in your kitchen.
Supplies:
water
vinegar
food coloring
baking soda
cups
spoons and something to put them on
baking sheet (to keep vinegar from spilling all over)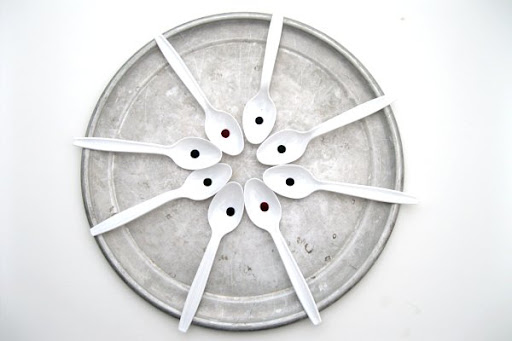 Take your spoons and lay out on a pan.  Place a dot of food coloring over each.
Now pour a little baking soda over each spoon.
Fill cups half full of water or vinegar.  I do half the cups water and half of them vinegar to keep the kids guessing and wondering if it is going to bubble up or not.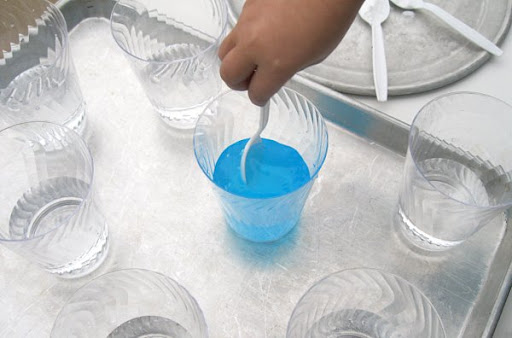 Then just let them take a spoon, choose a cup, and stir!  Oh, no magic in this cup….
But there is in this one!  This is when they get really excited.
It is also fun for the kids to see what color their cup turns out to be.  I love this activity because they never get sick of it.
Be creative and try different variations.  You don't have to use food coloring if you don't have it or you could do all the cups vinegar if you want.  I was thinking I would try it to help get chores done around the house in a fun way.  For example, if it bubbles equals dusting or if it changes a certain color it could be a certain chore.
I hope your kiddos enjoy it as much as mine!