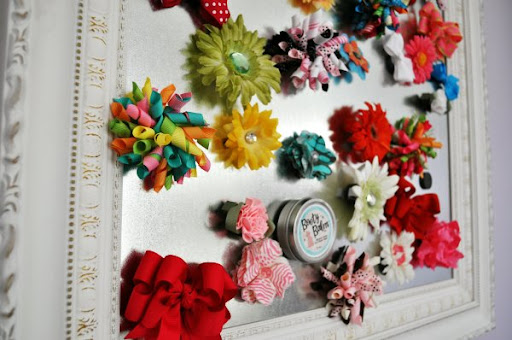 So I walk into my niece's bedroom last night and there on the wall hangs the best idea I have seen in a while.  I am sure it has been done before, but it's new to me and I think it is genius!
My sister took a magnet board and large disc magnets to keep her little girls metal clip bows and flowers in one place.  Pop them on and pop them off, and it so pretty and clean looking.  Seriously, am I the last to have seen this?
**EDIT**  My sister just called to inform me that she did in fact make this…I totally thought she bought it!!  She bought the frame, took it down to a local sheet-metal shop and had them cut a piece to match the size of the frame.  Then she just tapped some nails into back of the frame through the sheet metal…viola!  She had seen it at a friends house years ago and loved the idea.
It would be easy to make at home, but you can buy the boards everywhere and the magnets can be bought at a craft store, or even Wal-mart has them.
Oh the possibilities…I think it would work great in a sewing room for all your little tools that have metal on them, or in your pantry to hold odd and end metal items.
What could you use this idea for?