This is a fast and easy project that even the kids can help out with.  We hung ours from a tree right outside the kitchen window so we can watch who comes to enjoy.
You should have seen the looks on my new neighbors faces watching me take a bajillion pictures of bird feeder, they think I am nuts!
Here is how to do it:
Supplies:
small pumpkin pie pumpkin, or an acorn squash, gourd….
wooden dowels
bird seed
wire
Cut off the top portion of the pumpkin.  If you are using a squash, cut low enough to make sure the dish is not too deep.  Now clean out the seeds, this is where the kids can help.  I used a little paring knife to make the holes for the dowels by twisting through the side.  But you could pull out a drill if you are feeling like using a power tool ;).  Make two holes across from each other and then make two more a little lower so that one dowel will cross over the top.
Wrap the wire around the dowels a few times and then once at the top to join them. Fill with birdseed.
To hang mine I slid off two of the wires and strung over a branch, then just slid the wire back over the dowel ends.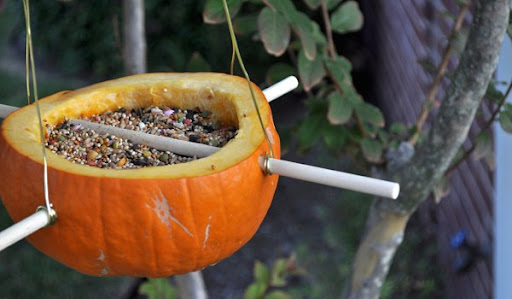 Cute and easy!  It would be fun hung from a garden hook too, or maybe a few hanging from the hooks where your flower baskets hung this summer.
Hope everyone had a great weekend.  We went camping and I have dirt everywhere.  So I am off to do another load of laundry…
Destri