Start saving your junk mail because it's time to play mailman/mail woman (??)!  Today's craft couldn't be easier, I bet you have everything you need on hand.
Supplies:
box
junk mail
exacto knife
paper
tape
stickers/markers/crayons
I took a box, cut, and taped up the end to make it open like mailbox, then I cut a slit for the mail to be deposited.  Then I covered it with white paper so my little one could decorate it how she pleased.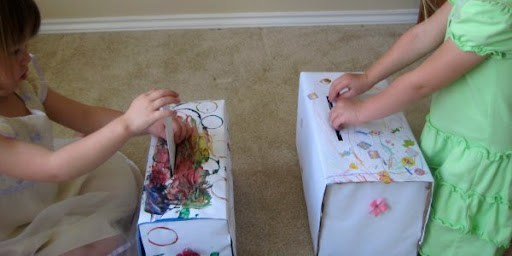 You can pull out one of your old purses to put the mail in, sling it on their shoulder then send them on their route.  It's been quite the hit with her friends when they get to deliver the mail to the mailboxes. 
This is a great way to encourage make believe, and keep 'em busy for little while!
How have you been playing with your trash?