Pin It

I love that this time of year presents moments of magic that you just don't see throughout the year.  Seeing the delight in my kids eyes as we pass neighbors houses all lit up, hearing my son singing Christmas carols, and watching my little girl's face when she finally saw Santa in the Christmas parade.  All memories I want to hang on to and share with them when they are older.  And I think I've found the perfect way to do just that – A memory keeping Christmas tree ornament.  A little keepsake I could make each year that holds all our favorite memories from years past.
The idea is to have an ornament dedicated to each year that will hold little slips of paper.  Throughout the season you can write little things you would like to remember.  I wrote the year and my kids ages and also what they are asking for Christmas on one, and then start writing down little things. Like how my little girl runs to the door every night to see if the neighbors have turned their lights on yet, then promptly puts on her shoes on so daddy can walk her over to see them.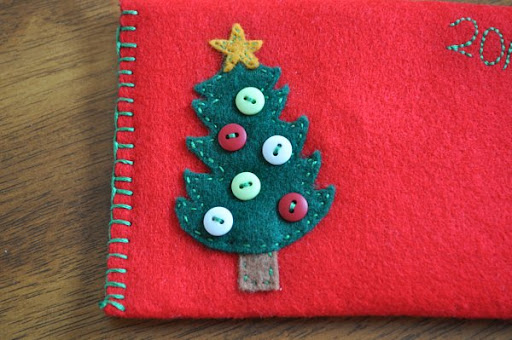 I just used felt to make a simple envelope and added a little tree for fun, and then stitched the year at the top.  See that blanket stitch, it was my first attempt.  I thought it would be easy to figure out on my own but couldn't, pulled out my Martha book, and still couldn't.  Finally I ended up on you tube looking at videos.  It is an easy stitch once you see someone do it.  A lot quicker than I thought too.
On the back I just attached a brad for a button and then sewed on a ribbon for hanging on the tree.
I keep the slips of paper with an archival pen on my kitchen counter for when opportunities present themselves.  Then slip them into the ornament for safe keeping.
I think as my kids get older it would be fun to have them write down some of their favorite things from that year.  What they got from Santa, one of their favorite activities, what they made for each other.  Fun stuff that maybe their own children can look back through and get a kick out of.  Wouldn't it be fun to know what your grandparents got for Christmas when they were little?!
Every year I can make the ornament a little different and add another year to the date, and then as we sit around the tree waiting for the big day we can pull out the memories and laugh, reminisce and remember all the fun from years past.  Then one day hand them down to my kids for their children to enjoy.
I think these would make awesome gifts too, just include the paper and pen for them and make it a tradition every year!
Not the crafty type?  I found this little gift card holder at Hobby Lobby.  It would be perfect for this.  Just cut up some little slips of paper and your set!