A Personal Touch to a not so personal Gift Card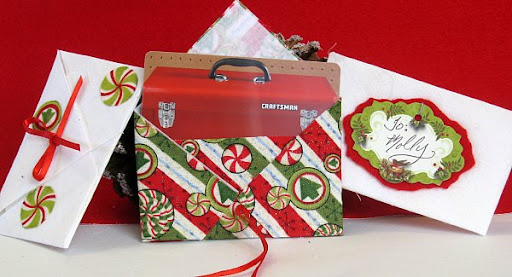 No matter how hard I try, someone on my gift list ends up with a gift card for Christmas.  Not that I think they are a thoughtless, they just always seem to lack in the "I am so stinkin' excited to give this to you!" factor.
Last year I made quite a few of the gifts I gave, and they by far were peoples favorites.  This year I would like to make even more, and came up with this idea to add a little personal touch to the gift cards I give.  I think Martha would be pleased.
Don't be scared by all the steps shown below, each one takes a minute or less to do.   Seriously they were really fast to iron out, and if you do quite a few at a time, you will have minimal time invested.  No sewing machine required; just a scrap of holiday fabric and a few other things most sewers have lying around.
Supplies:
Piece of fabric cut to 5¼ x 5¼
Piece of fuse a shade cut to 5¼ x 5¼
Stitch Witchery
Ribbon
Needle and Thread
Embellishments

Cut your fabric and lining to 5¼ x 5¼

Iron lining to fabric

Using a ruler or cutting board cut off one corner 1¼ inch deep

Center gift card on fabric and fold over to cover most of the card as shown above and make a crease
Now with the card with the card still centered trace along each side and fold to create a crease

Cut small strips of stitch witchery and place under side folds

Iron making sure not to scorch fabric (yes, it happened to me)

Fold under top flap and cut a small notch as shown above
Now lining up with the notch just created, tack on a strip of ribbon with needle and thread (mine measured 7 in long)

Thread the ribbon through and tie a bow

This is the back

This is the front!
I used cut, peel, and stick on felt and a scrapbook tag to create the embellishments for the first envelope.  For the second I am going to attach a cute holiday button, on the third I used heat bond to iron on some little cut outs I made with scrap fabric.  Easy peasy, pumpkin pie!
I think they will be fun to add to the little gift baskets I am doing for the neighbors with a gift card to Netflix.  They  would also look great placed on the branches of the Christmas tree  don't you think?