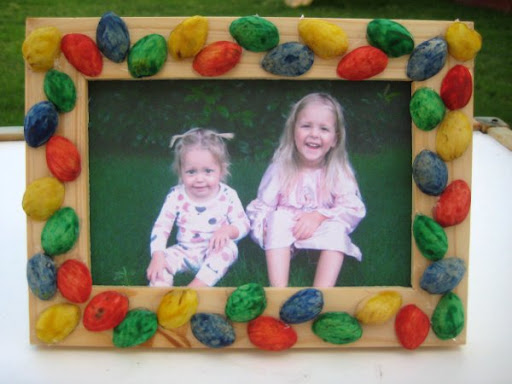 With Father's Day this Sunday I thought it would be fun to come up with something original for the special men in my life.  My hubby, dad, and father-in-law all LOVE nuts.  I usually give them a can of nuts with a card….good, but not very personal.  So this year, my girls and I decided to get creative.  We made a picture frame with pistachios to put a cute picture of the girls in.  I was excited how cute it turned out!
Supplies:
pistachios
zip-lock baggies
paint
wood picture frame
tin foil or wax paper
glue
Open pistachios and put the shells in a couple different zip-lock baggies.
Put paint in each of the baggies, close it, and then squish it to coat the shells well with paint.
Dump the shells onto tin foil or wax paper, separate, and then let them dry.
Glue the shells onto the picture frame.  I used hot glue to secure them quickly.  I put the glue on the frame and then helped my daughter carefully put the shells on.
Put a picture in the frame and your done!
When we make the card, which we haven't done quite yet, I am going to put, "We are NUTS about you!"  My daughter thought that was pretty hilarious, but I explained that it means we love you a lot.  She thought it was pretty funny and now likes to tell me she is nuts about me.  :-)  I will also wrap up the opened pistachios up in a bag to give him as well.
What homemade gifts have you helped your kiddos make for Father's Day?
Linked this post to Tip Junkie's Show and Tell for father's day, fun stuff!