It's blueberry season :) where I live and blueberries are seriously one of my favorite fruits.  I didn't fall in love with them until I went to a blueberry farm and picked the fresh ones, they taste nothing like the tiny chips of ones found in some commercial muffins and they are not tiny either.  If blueberries are picked before they are ripe they are sour,unlike other fruit that will ripen after being picked..no such luck with the blueberry.  Most all of my life I had eaten the sour ones so naturally I wasn't drawn to them, then the magic happen, we decided to go picking blueberries for fun.  We probably ate as many as we picked that first time because they were so incredibly good.  Now, I enjoy blueberries and eat them year round, so I'm always looking for ways to use them in my cooking.  I love this recipe for scones because it adds oats which makes me feel like they might be a little healthy.  I adapted this recipe from a recipe book found in my parents new kitchen aid food processor. If you are interested in seeing more detailed directions with photos then check my other recipe for blueberry scones both recipes are delish!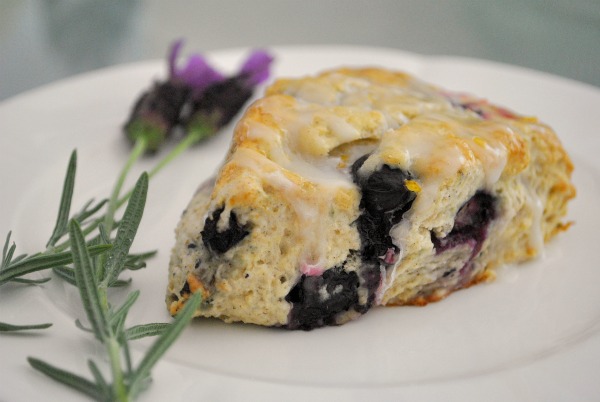 Recipe:Oatmeal Blueberry Scones
Ingredients:
1 1/2 cup of all pusrpose flour
3/4 cup rolled oats
1 T. baking powder
1 tsp. sugar
1/4 tsp. all spice
1/4 tsp. salt
1/2 tsp. lemon zest
1/3 cup cold butter
1/2 cup of buttermilk
1 egg
1 cup frozen blueberries

Directions:
Step 1: Put all dry ingredients into a food processor fitted with the cutting blade. After snapping lid into place pulse a few times to get the dry ingredients mix well.
Step 2: Cut the butter into small cubes and add to the food processor, after securing lid pulse a few times to break the butter up into smaller pieces.
Step 3: While food processor is turned on add the egg and milk until the it begins to form a ball.
Step 4: Take off lid of the processor and dump all the contents onto a floured surface, carefully scrap the dough out of the bowl and off the blade.
Step 5: With floured hands add some frozen blueberries to the dough fold over and add more and continue until all the berries are incorporated. Shape dough into a round mound and pat down to about 2 in. thick. Cut the circle into 8th's and put each scone on a greased cookie sheet. Crack an egg lightly whisk with fork and brush the tops of the scones with egg.
Step 6: Bake scones for 28 to 30 minutes at 350 degrees Fahrenheit, until golden brown and when tapped in the middle it feels solid.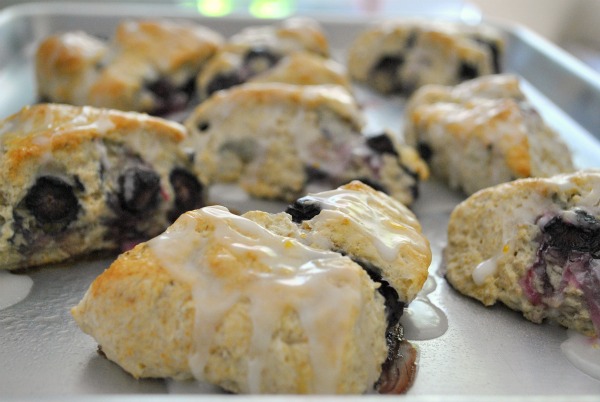 Glaze Recipe:
1/2 cup powdered sugar
1 T. lemon juice
1/2 tsp. lemon zest
Directions:
Step 1: In a small bowl mix the powdered sugar, lemon juice and zest together until it gets smooth and is pouring consistency. If too thick add a small amount of lemon juice until you get the desired consistency.
Step 2: When scones have cooled for 15-20 minutes drizzle the glaze over the top of each scone.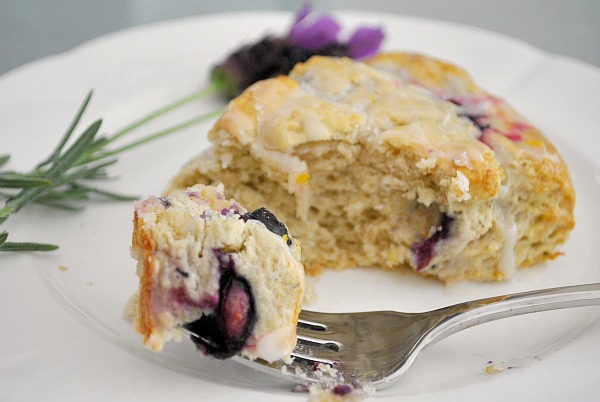 Linked to Skip To My Lou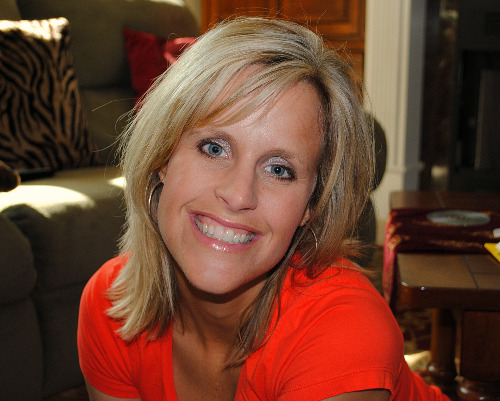 Suzanne is a regular contributor on TMH and can also be found on You Made That? Where she shares her adventures in the kitchen.