Aren't these great?  I ran across them a few months ago in Better Homes and Garden and thought they were the cutest.  I knew we had this series coming up and thought they would work perfect for the Thanksgiving alternatives theme.  So if you are signed up for the pie this year, show up with these little guys in all sorts of flavors and no one will have to feel too bad about having 3 different pieces of pie!
In the article they shared a pie filling recipe, but for simplicity I went with a good canned apple one.  Also if you have a pie crust you just love to use, knock yourself out!
Pie On A Stick
adapted from BHG Sept 2010 issue, pg 212
Ingredients:
1 15-oz pkg refrigerated pie crust (2 crusts)
10-12 paper or wooden lollipop sticks
Your favorite pie filling (I cut the apples in mine to be just little then mashed with a fork a bit)
1 egg, separated
1 tablespoon sugar
1/4 teaspoon cinnamon
1/4 teaspoon nutmeg
Preparation:
Preheat oven to 375°.  If not using a nonstick cookie sheet line with parchment paper and set aside.
Unroll the pie crusts on a lightly floured surface.  Roll each crust to be about a 12 inch circle.  Using a leaf cookie cutter or circle (mine was around 3 inches and I found it at Hobby Lobby) make 10 – 12 cutouts from each crust.
Put half the cutouts on the baking sheet and press the lollipop sticks into the center of each.  Spoon a little filling into the middle of each.
Take your egg white and add a teaspoon of water, whisk until frothy.  With your finger brush the egg white on the edges of the cutouts.  Place the other cutouts onto the filling and with a fork seal the edges. Make sure the dough is pressed firmly around the stick.
Whisk the egg yolk and a teaspoon of water in a small bowl.  Brush onto the top of the pies.  Combine the sugar, cinnamon, and nutmeg.  Sprinkle over the top of the pies.
Bake for 15 -20 minutes or until golden.  Let cool on baking sheet.
A few notes on making the pies.  To fit more filling into my pies I molded the top piece a bit in my fingers to be a dome.  That way you get more filling with the crust.  Speaking of the crust, if it seems a little thin, that is okay.  You don't want it too thick or your pies will be all crust!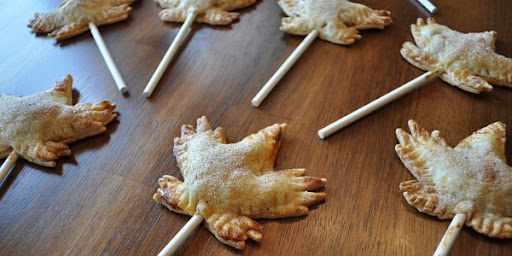 I was surprised how well they bonded to the stick, I was worried they would be wobbly, but they turned out nice and sturdy.  They would be super cute stuck in floral foam they use to arrange flowers in a bowl covered in nuts or something, don't you think?
It should go without saying that my kids loved these, but I will say it anyways, they thought I was pretty cool.  They even helped make them, until I lost all my patience. :)
Well, we're off to the park to share ours with new friends, nothing like bribing the neighborhood!