We all love beautiful flowers but sometimes we forget to water them in the hot Summer or we only have a minute so we just splash some water on the plants and hope for the best.  When we only water the surface, the roots of the plants don't get the much needed water.  Water on the surface just evaporates which is not what we want.   To remedy this problem  I found this great idea over on You Grow Girl about turning plastic bottles into water wells for large potted outdoor plants.  It turned out great, I enlisted the help of my wonderful husband and it took us just a few short minutes to complete this little green project.
Supplies:
Plastic Gatorade bottle and cap (or what you drink from)
Screw Gun and small bit
Sharp serrated knife
Bulb digging tool or hand shovel
Directions:
First make small holes in the cap of the bottle with your screw gun.  We ended up using a screw to drill into the cap because we couldn't find a small bit.  We really only needed one or two holes.
Next the bottom of the bottle needs to be cut off.  A sharp serrated knife will do but my husband said he had the perfect tool to do this with so I let him use his special tool ;)
Now all that's left to do is find a spot to put your bottle in and dig the hole.  I put mine in the middle in one container and in the side of another.  Ideally it would be better to insert the bottle before you plant your plants.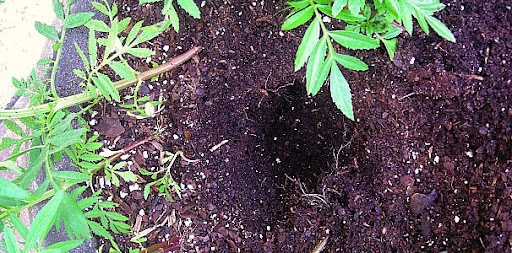 To dig the hole I used my handy little bulb digger but a hand shovel will do the trick just fine.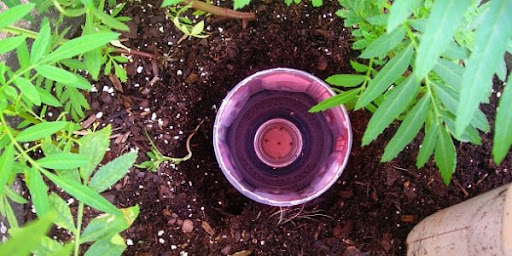 Then fill in the rest of the hole around your bottle…viola!