I am not sure if I am happy about this new idea or not.  I seriously can't stop buying candlestick holders because of it.  It all started a couple months ago when I stumbled across an ad for antique candlestick holders that had been spray painted bright colors and then had a marble piece attached to the top to make a cake stand.  I tried to find them again with no luck, can't believe I didn't bookmark them, so if you know which ones  I am talking about let me know.  I thought it was Ballard Designs.  Anyhow, I came across these little beauties in a box of old things…
They were in the box cause they just didn't do it for me anymore.  But…there was that idea I had seen…
A can of spray paint later I had me a little cake stand.  The fun thing about this is you can change your mind on the plate to use…
I started with this great Caribbean colored one I found at an antique store, but decided it was to hefty for the dainty base.  So then I decided on the one above.  Then I remembered I had a spare top that would go with the plate, but then the base needed a little something more, so….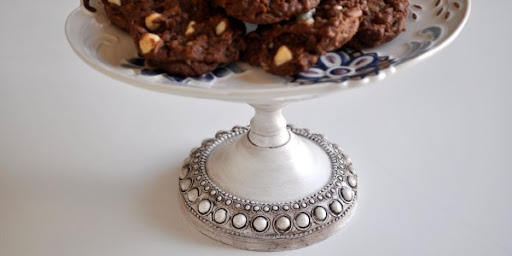 I rubbed some brown glaze on it then glued on the plate and viola'!
A new cake stand!
Then I took the tall one and glued a glass bowl to the top of it, after I painted it white.  It would look awesome on a mantle with fun stuff inside for the season, like the dark chocolate peanut M&M's I found courtesy of Miranda.  But the final destination for this one is next to my sister's claw foot tub with bath salts and a cute little scoop in it…sigh…if only I had a claw foot tub…
I still had the pretty Caribbean plate to deal with,  so I found this bigger bronze candlestick holder at kmart for 3 bucks and sprayed it too.
Then glued the plate onto it…actually, I didn't glue this one.  I figured it would be fun to change the plate out for the season.  The base was wide enough to keep it sturdy.
Then I was shopping with Aubrey and found this cake stand topper at a vintage store, it fit perfect!
All of this for at least a quarter of what I would have spent on one.  Now do you see my predicament?!  It's addicting!  But I do think they will make great gifts so… I just bought two more antique candlestick holders I found in Jackson Hole at a thrift store and think I'll paint them a bright fun color and put a white plate on them.  They would work great as a little ring stand by the sink too, or a soap dish.  Especially if you have a little base and little plate.  Oh the possibilities…
Supplies:
Candlestick holder
Plate, bowl, whatever you can think of
Clear epoxy craft glue
Spray paint
Spray primer if you have a smooth metal surface to start with
Start by sandpapering the candlestick, then clean it off.  Spray the base with the primer using multiple light coats and letting it dry in between.  Then spray paint desired color, again using multiple light coats and drying in between each.  Once dry, glue the plate on!  Couldn't be easier!
Now if you will excuse me, I need to go scour the antique shops for some cake stand toppers…