After my month long vacation visiting family, I'm ready and excited to get back to crafty with my kids!  This one has been a hit!  My four year old spent over an hour creating and reusing the salt.  She kept saying, "Mom, how did you know to do this!"  I think I made her "cool" list today!  :-)  I got this idea from a friend back when we made the Baby Food Jar Tea Lites.
To make the salt I put about 1/4 cup of salt in each container.  Then I added food coloring to get the desired color that I wanted.  It make take a minute, but keep stirring!
I then put paper on a cookie sheet, gave her some glue, and a paint brush to help move the glue and sand around in between pictures.
Of course she wanted her name on her paper, so I wrote it out for her.  Then she had a great time spooning the salt on her name.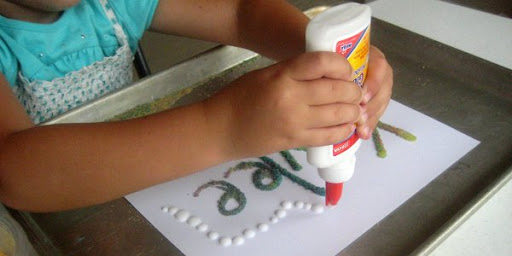 It turned out really cute.  She said, "We will never throw this away, will we mom?!"  I couldn't tell if that was a statement or a question, either way, she likes it that much.
I thought it would be fun to put some of the salt in salt shakers to make it something my 20 month old could do as well.  I didn't  try it yet because she was napping when we did this project.
I hope your kiddos enjoy it as much as mine did!