The excitement of Santa Claus coming this year has been discovered by my 3 1/2 year old.  When friends and neighbors ask if anyone is coming to visit us over Christmas (and they mean family, because we live far from them all) she immediately replies with a grin, "Santa Claus!"  To get ready for Santa we of course have to have cookies for him.  I thought it would be fun to make a plate for us to use as a tradition each year.  This is what we came up with!  My daughter had a great time making it!
Supplies:
clear glass plate
fabric – enough to cover the plate
Mod Podge
paintbrush
newspaper
something to stick the plate on while drying  (I used a cup)
scissors
Before beginning, make sure your plate is clean.  I recommend putting newspaper under the plate to keep from getting Mod Podge on the table.
Paint the back of the plate generously with Mod Podge.
Get the fabric a little wet and then lay it on the plate.  Generously paint the fabric with Mod Podge.
Prop your plate up on a cup or something to lift it off the table.  Cut the fabric around the edge of the plate.
Run fingers all around the plate to get the air bubbles out.  Also, run your fingers around the edge to make sure the fabric is pressed to the end well.  Let it dry.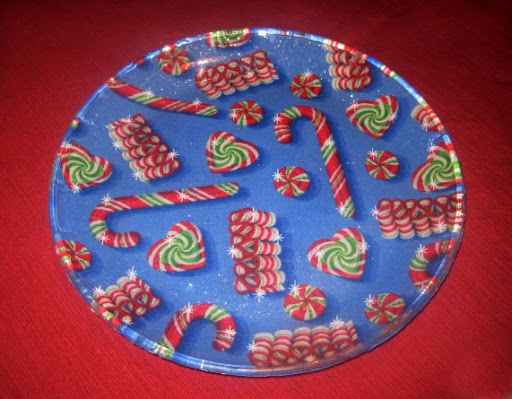 Isn't it adorable!  I'm excited to be able to use it year after year.
(p.s. Do not submerge in water or put in the dishwasher!  Hand wash the top only!)
We put cookie cutter brownies on Santa's Plate for the picture above because we had them as we are making them for neighbor treats.  I'm too lazy to do the whole sugar cookie thing so I decided to do something a little different this year.  I made  sheet cake brownies and dusted them with powdered sugar.  After the brownies cooled, we used cookie cutters to cut Christmas shapes.  We filled our plates with the Christmas brownies and then used Suzanne's idea, and poured white chocolate in the cookie cutter to top off our delicious neighbor gift.