Everyone loves a pinwheel – and when it looks like a Shamrock it's a fun and easy craft for St. Patrick's day that the kids will love. You only need a few things to be the coolest mom on the block, and the best part…no pins to worry about. The pipe cleaners hold it all together!
Perfect for a little St. Patty's Day celebration. Catch me after the jump for all the details!
Pipe Cleaner Shamrock Pinwheel Craft
Supplies:
Green pipe cleaners

Green construction paper

Scissors


Glue stick

Little hole punch if you have one, if not a tack or pin
Fold one piece of paper in half twice as shown.
Now cut out the shape of a clover leaf like shown.  Ours were about 4 inches long, but if we make them again I would keep them at about 3 inches tall.  This should give you four leaves.
Now fold over one corner and slightly bend the leaf to curve as shown.  Use the glue stick to secure.  Next glue them to each other forming a four leaf clover.  I used a little flashlight to hold them together on the table for a few minutes.  Let the glue dry completely.
Use a hole punch or a tack to make a small hole through the center of all four leaves.
We used two pipe cleaners twisted together to make them sturdy.  Just leave an inch at the top of single pipe cleaner to put through the hole.
Insert the end of the pipe cleaner through the hole on the flat side of the shamrock, then bend the pipe cleaner to create a 90 degree angle.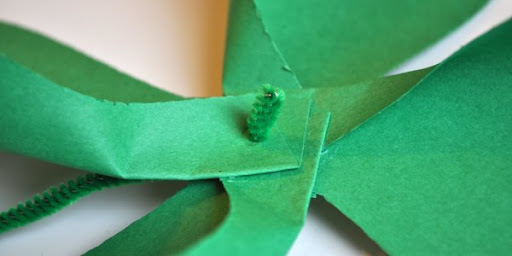 Then simply loop the end on the front to secure…..
…..and blow!
They really are fun, my 3 year old had a riot!  This was his first pinwheel…can you believe that?  I should be ashamed of myself.
I hope everyone has a safe and festive St. Patrick's Day!
Destri