Sewing friends, I have a great spotlight for you today.  Heidi from Elegance & Elephants caught my eye in the last round of Project Run & Play with the serious cuteness she was turning out.  Especially in the boy department. If you have a boy, and want more ideas on what to sew for him, Heidi is a great inspiration.
She has all sorts of tutorials, like those super cute Pocket Capris, and I learned a couple new things from her technique tutorials too.  Really just reading about her sewing process you can pick up little tricks for details that really take a garment from homemade to handmade.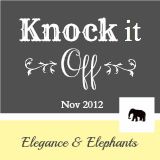 Right now she has a fun Knock It Off series going on featuring some favorite sewing bloggers from the web.  There's a flickr group too, where you can add your own projects. I had a chance to share my all time favorite knock off that has nothing to do with sewing, and everything to do with shoes.  A $700 pair of shoes. Hop on over to check it out, then go to the homepage and roam through what everyone else shared – fun stuff!