St. Patrick's Day for me has always been a day you wore green so you don't get pinched.  In the past I haven't really been excited or really cared to make it anything but that.  After hopping around some of our favorite blogs I'm pretty excited about doing some of these things with my girls.  A couple years ago when we lived in Virginia a friend invited us over for a 'green' lunch.  Everyone had to bring something that was green and it was so much fun!  I've decided to make that a tradition, and here's a few ideas I think would be fun to incorporate.
I found these cute Leprechaun name tags at Crack of Dawn Crafts that I thought my daughter and I could make for our guests.  Also take a look at the yummy Hint O'Mint Chocolate Chip Cookies that look delicious and must be at our luncheon!
The Rambings of a Crazy Woman has some really fun St. Patrick's Day crafts to do.  I thought the St. Patrick's Day Entry Way would be a lot of fun to do before our friends arrived for our 'green' lunch.
I also love these Shamrock Sun Chasers. I know my daughter would love to make them.
No Time for Flash Cards has some really cute St. Patrick's Day crafts.  My favorite being this Hand Print Four Leaf Clover, I love anything creative with my little ones hand print.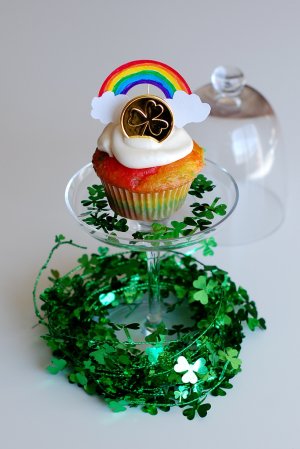 Make and Takes has the cutest cupcake toppers from No Biggie to go with rainbow cupcakes, you bite into them and there is a rainbow, so cute.
And Cat made Maria's favorite sugar cookie and has confirmed they are the best ever, so I guess I need to make these too.
I know there are a lot of you out there in blogland doing fun things for St. Patty's day too, please leave a link in the comments so everyone can check them out!