My mom is from Idaho and you'd be right if you thought I grew up eatin' meat and potatoes on a regular basis. One of those meat and potato meals my mom made is called stuffed meatloaf.
I LOVE stuffed meatloaf. It is sooooo delicious. When my mom comes to help me after I have my babies (well both times, I've only had two) I always ask her to make stuffed meatloaf. The flavor combination is just right. Smother it in the mushroom sauce and it is oh so comforting.
We've had alot of rainy weather where I live right now and for some reason the weather has got me really craving some stuffed meatloaf. So……I decided it was the perfect recipe to share with you this week.
Besides being delicious, this recipe is a fun meal to make for a dinner guest and is also very affordable.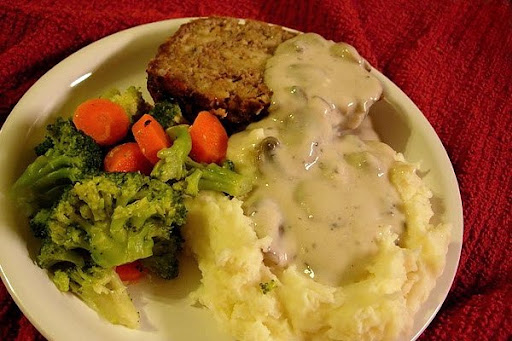 Stuffed Meatloaf
1 1/2 – 2 lbs ground beef or turkey 1 egg 1 1/2  tsp salt 1/4 tsp ground black pepper 1/3 cup diced onion 3/4 cup bread crumbs or quick oats 3/4 cup milk 1 pkg stuffing, prepared according to package directions
Combine everything in a large bowl except stuffing.
Mix thoroughly  (by hand works best for me.)
Place two pieces of plastic wrap (over lapped to make it a larger surface) on a flat surface and pat meatloaf (I like to use little baggies on my hands so it doesn't stick so much) into a 3/4 inch thick rectangle. Next cover meat mixture evenly with the prepared stuffing.
Starting at one end begin rolling the meatloaf gently using the plastic wrap to lift and turn the loaf.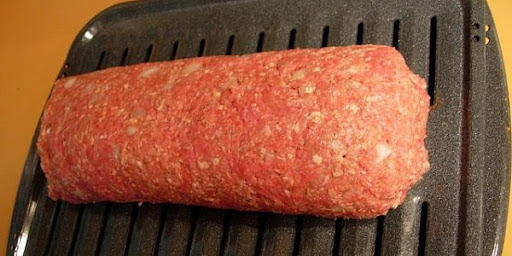 Once meatloaf is completely rolled, place it seam side down on a broiler pan (you know the pan that came in the bottom drawer of your oven that you have probably never used). If you don't have a broiler pan just put it on a regular cookie sheet. The broiler pan drains the fat off and keeps the meatloaf from sitting in its own fat. Seal the edges of the meatloaf so the stuffing won't fall out and then bake at 350° for 1 hour and 30 minutes.  Let stand 10 minutes, slice in 1 inch thick slices and serve with mushroom sauce. Mmmmm.
P.S. Don't you just love my mustard yellow counter tops. Yikes! But Hey I've got twice as much cupboard space now, so I guess I'll take what I can get.
Mushroom Sauce
1 small can cream of mushroom soup 1 soup can of milk 8 oz fresh sliced mushrooms 1 clove garlic crushed large pinch beef bullion dash pepper big spoon of sour cream 2 Tbsp butter
Saute' mushrooms and garlic in butter until tender. Add soup, milk, beef bullion, and pepper. Bring to a boil and add sourcream. Simmer for a minute or two. You can either dump all of the sauce over an unsliced meatloaf and slice it as you serve it you can just serve it in a gravy bought and let everyone control how much sauce they get. I like alot of sauce.