I had no idea what to name this dish.  It came down to The Best Little Potatoes, because they are little and the best, fitting no?  Sorry, it was all I could come up with!  Maybe after you read the details you could help me come up with a name. :)
Every time I make these little babies my husband comments on how good they are.  That is when I know something is good.  My husband is not really the type to comment on dinner much.  Even if it's good, it has to be out of this kitchen good for him to speak up.  I can usually be heard saying loudly "You're welcome!" (am I the only one that does that?) as he walks out of the room and he replies "Thank you, it was great" out of courtesy.  So if he volunteers a "These taters are so good"  then I know they're a winner.
What makes them so good you ask?  The way you cook them.  Boil then brown with a little butter and salt.  Perfection I tell 'ya.  And oh so easy, it'd be really hard to mess these up!
The Best Little Potatoes
Serves 4-6
Ingredients
1 lb of little yellow potatoes (they usually come in a little mesh bag next to the little red potatoes)
2 tablespoons unsalted butter (if you want more, go for it, I won't judge ;) )
2 tablespoons olive oil
1/2 teaspoon kosher or sea salt
2 tablespoons freshly snipped chives
Preparation
Clean potatoes and put in a large pot.  Cover with water making sure there is about 3 inches of water above the potatoes.  Bring to a boil and let cook until just tender enough to insert a fork, about 15-20 minutes.  Drain.
In a large frying pan over medium heat, add the butter and olive oil.  Once the butter is melted add the potatoes.
With a fork gently press down on each potato breaking the skin and smashing them a bit.  You don't want to break them up, just open them up a little.  Sprinkle with the salt and let brown on that side without turning.  Just leave 'em alone.
When they are nice and brown, turn each potato over.  They should look about like this.  Again, leave them alone and let them brown.  Once they have browned nicely on the second side add the chives and dump into a serving dish.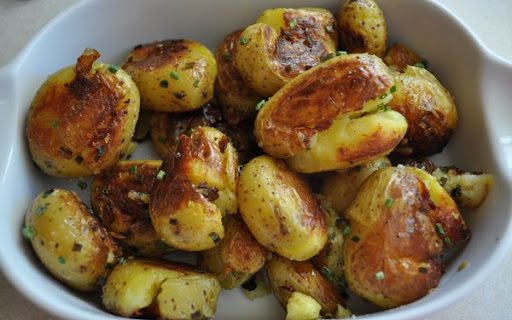 Make sure to get all those yummy little bits in the bottom of the pan, they are the best.  I should also note that when I made these, my store was out of fresh chives, so I had to use freeze-dried chives, they were still super tasty.  The potatoes themselves have a buttery taste and they seriously just melt in your mouth.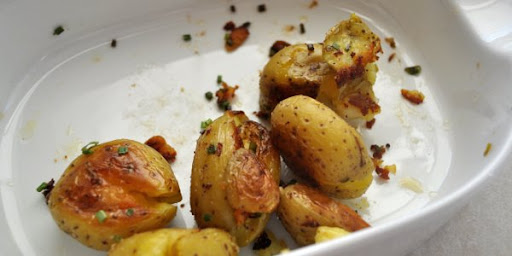 Have I emphasized how good these are yet?  I feel like I have to say it over and over, just to get the point across.  Me and my husband ate all the potatoes in the dish except these ones.  And then when I was done taking this picture…I ate those.
So why these for Thanksgiving?  They are perfect for those that don't like the mashed version, and they will go perfect with the turkey recipe we have coming up for you.
Also, please just don't reserve these for Thanksgiving, they go great with a steak or chicken dish too.
How about you?  Any knock out way you cook your potatoes?  Links welcome!
Linked this to Beauty and Bedlam, she has great giveaways going on right now!