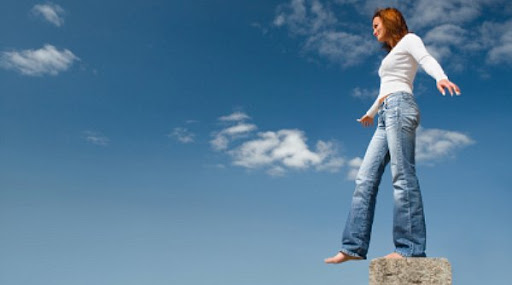 If there is one thing that seems to elude mothers more than any other it would have to be finding balance.
I happen upon it every now and then, but find myself searching for it on a regular basis.  I finally came to the conclusion that it is just as much a state of mind as it is a state of being.  And one way of finding both is to simplify.
That being said, today I have a list of ideas that help me find that balance, and links to which I plan on employing this new year in the never ending search for it.
Twenty Ways to add Balance and Simplify
Take twenty minutes every day to turn up the music and dance with your kids.  You will fit in some cardio and play time all at once.
Only touch your mail once.  Pick a time of day that you can spend fifteen minutes with it;  shred it, throw it away, file it, immediately fill out bills, even if they are to be mailed later.
Organize your winter gear like Kim from Mom Tried It.
When you make dinner double the recipe and freeze half of it for a later date.
Commit to five minutes a day to do your make-up.  Seriously that is all you need.
Wake up thirty minutes earlier every morning to do something important to you.  Journal, read scriptures, drink your coffee, kiss your hubby.
Read this post on The Best Kept Secret to a Clean House.
Know what you are going to have for dinner by noon everyday.
Create an inspiration book like Davina for a place to keep all the ideas running around in your head.
Set the timer when on the computer.  And don't cheat.
Don't wash your hair everyday.  Talk to your hair dresser, they'll agree!
Make your kids laugh at least once a day.  Not just a giggle, but a full belly laugh.  Nothing balances my life more than to hear my little one's laughter.
Find something you love to do, and just do it.  Creativity has fed my soul in ways I never imagined.
Try to go to bed with a clean kitchen.  You'll thank yourself in the morning!
Stop doing what you no longer find joy in.  It's okay.  Your all grown up now, and you are allowed to change your mind.
Sing while you cook.  Even if your husband laughs, it will be one of your children's favorite memories.
Make time.  Read this post.  I have asked you to read it before, but for those of you who didn't I am asking again.  I promise it will help you find a little balance.
Have a weekly date night with your husband.  Even if you can't leave the house, set aside one night a week for each other with something planned.  It could even be a picnic and movie on your living room floor.
Allow yourself imperfections.  Then except them.  Then embrace them.
Now it's your turn, and I know how many of you are reading this!  I had better get more than five comments!!!
How do you find Balance in your life?  How have you found ways to simplify?  Please share, I need the inspiration!